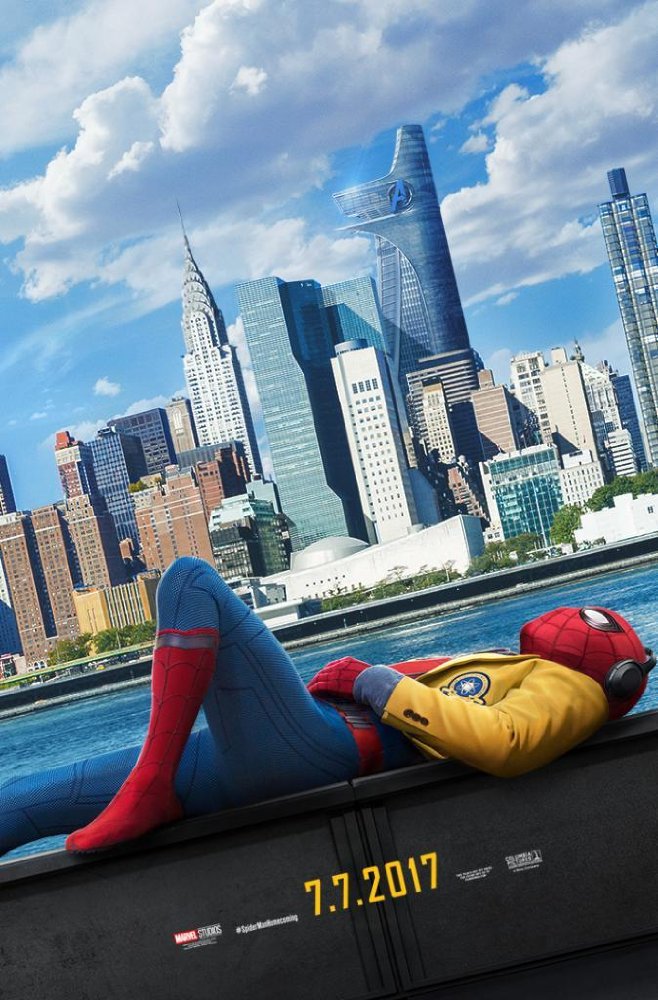 Spider-Man: Homecoming
A Welcome Homecoming
Chris Kavan - wrote on 07/13/17
I didn't know if we'd ever get Spider-Man in the MCU, but thanks to a lot of wrangling (and I'm sure a lot of money), Civil War gave us our first look at the newest would-be Avenger. This is the third outing for Spider-Man, following Sam Raimi's 2002-2007 trilogy and the attempted Amazing Spider-Man reboot. I was worried that casting someone younger would be risky, but Tom Holland proved in his short time on Civil War he was a great choice - and his first solo outing doesn't disappoint.

Luckily, we can skip the origin story this time around. We all know about the spider bite and what follows. Homecoming starts off with Peter Parker documenting his involvement with The Avengers during the events of Civil War. Happy Hogan (Jon Favreau, reprising his Iron Man role) is essentially his caretaker, even though it's obvious he feels the job is beneath him. Tony Stark/Iron Man (Robert Downey Jr. in an extended cameo appearance), gives Parker a much-needed suit upgrade but doesn't consider him a full-on Avenger just yet.

Thus our hero returns home to Queens, awaiting his next big mission, but, in the meantime, must bide his time by giving old ladies directions, stopping a person from breaking in to their own car and stopping a bicycle thief even though he can't track down the owner. Plus, he still has to be a regular student with an upcoming Homecoming dance and Academic Decathalon to worry about. Parker is still a big nerd, crushing on senior Liz (Laura Harrier) while his best friend Ned (Jacob Batalon) is ready to build a Lego Death Star while smug, entitled Flash (Tony Revolori) is smug, entitled bully.

Things take a turn when our hero catches some bank thieves using some highly sophisticated weaponry. Thus we have our second story, as The Vulture (Michael Keaton) and his merry band of high-tech misfits have made it their goal to collect alien and super-hero technology, re-purpose it, and sell it to the highest bidder. You see, Keaton was supposed to get a big payday helping clean up New York following the big alien attack from the first Avengers movie, but when Stark's company took over, it left him out in the cold, thus he took matters in to his own hands to provide for his family. But selling black market weapons of mass destruction may be taking things a bit far.

I was worried that Keaton's Vulture would be too vanilla a villain, but I was wrong. He actually makes a decent point, even if he goes about fixing it all wrong. Plus, we get a look in to the future with Bokeem Woodbine taking on the role of The Shocker and Donald Glover turning up a minor hood who may or may not be playing a big role in the future (but given his caliber, I'm guessing yes) along with Michael Mando (best known as Nacho from Breaking Bad) turning up as Mac Gargan aka The Scorpion.

Holland does a great job as a not-quite-ready-for-prime-time hero. One of my favorite scenes is when he is trying to catch up to the villain's van and keeps breaking fences, sheds and scaring children - this is a hero still trying to figure out the extent of his powers. He means good, but isn't quite to the point of being confident (or maybe too over-confident for his own good) in his actions. Plus, Jon Watts does a great job of keeping that awkward humor going throughout.

The rest of the cast includes Marisa Tomei as a way-too attractive Aunt May (especially considering that Rosemary Harris had the role in the original trilogy). Zendaya as the moody Michelle (who goes by MJ - surprise!), along with Hannibal Buress, Kenneth Choi and Martin Starr as teachers and, in Choi's case, principal, at the school. Jennifer Connelly adds her voice as Spider-Man's personal suit assistant while Gwyneth Paltrow has a top-billed but super short cameo as Pepper Potts.

The film manages to strike a good balance between all the super hero action we've come to expect along with keeping things grounded in reality. I actually wish we could have gotten a bit more fleshed out in Parker's real life - Tomei, Revolori, Zendaya and even Batalon could have been given a bit more to do in my opinion. Still, with a several-picture deal already announced, it's obvious they are setting things up for the future (with a possible Sinister Six coming soon) and it will be interesting to see how all the pieces fall together and what role Holland will play for the future of the MCU beyond the Infinity War. One thing is for certain, the new Spider-Man is in very capable hands and I look forward to seeing what is going to come of it.