3/4

2.5/4

4/4

3/4

2.5/4

2.5/4

3/4

3.5/4

2.5/4

3/4

2.5/4

3/4

3.5/4

3/4

3/4

2.5/4

3/4

3.5/4

2.5/4

3/4

2.5/4

2/4

2/4

3/4

3.5/4

Next 25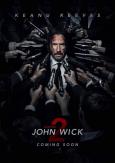 John Wick: Chapter Two
You DO NOT Stab the Devil in the Back
3.5/4 stars
When John Wick came out, it was a pleasant surprise. Chad Stahelski - who once worked as Keanu Reeves' stunt double in The Matrix films, got behind the camera and turned Reeves into a stoic badass - a martial arts and gun master who wanted to be left alone but was called back in to action when his car is stolen and his dog is killed. Thus began a one-man revenge tale and woe be to those who stood in John Wick's way. And action, oh my, if you like action Wick delivered on all cylinders.

John Wick: Chapter Two picks up exactly where the first film ended - with Wick cleaning up the last of the Russians in order to retrieve his car and, in typical Wick fashion, using said car as a weapon while doing so. He settles the score with Abram (Peter Stormare - staring in incredulous disbelief for most of his cameo appearance) and make a peace before driving off in his now almost completely destroyed car.

If Wick was hoping this was the final chapter in his saga and that he could final retire in peace (and with a new dog), he was sadly mistaken. Who shows up on his doorstep but Santino D'Antonio (Riccardo Scamarcio) and he invokes one of the few rules that the hidden assassin's guild follows. It seems that long ago, D'Antonio did Wick a favor and, in turn, was given a marker. This marker A) means the marker's holder cannot be killed by assassin whose mark he holds and B) can turn in the marker at any time to essentially give the assassin a task he cannot turn down - no matter the job. Wick really wants to be left alone and declines the job - so D'Antonio blows up his house (luckily the dog survives this time). Realizing he really has no choice, Wick takes the job - to take down D'Antonio's sister, Gianna (Claudia Gerini) who has been given the honor of sitting on the High Council instead of Riccardo.

What follows is pure action bliss. From John picking out his weapons, clothes and plotting his path - to his feud with Gianna's main bodyguard, Cassian (Common) and his escape from a heavily-guarded facility only to face Riccardo, his men and several other assassin's once a contract is put out on his own head - Reeves plays the part to perfection. There is a also a great reunion between Reeves and fellow Matrix star Laurence Fishburne with several allusions to that classic sci-fi trilogy.

The action is almost non-stop with both martial arts (lots of Judo and Brazilian Jiu-Jitsu) and plenty of gun battles. Plus, this is still one of the few action franchises that actually makes gun battles realistic by giving weapons suitable clips - I love it when Wick has to throw his gun away only to quickly grab another and start shooting again. It is very violent - head shots galore (and Wick does so love his head shot - make sure they're not getting back up) with easily over 100 kills during the course of the film.

But the film benefits from its action by bringing in some of the best. The Machado Family was brought in to personally train Reeves in Brazilian Jiu-Jitsu while marksman expert Taran Butler trained Reeves in the use of several weapons at his facility in California. And it wasn't just for show, according to Butler, Reeves is one of the most dedicated actors who has graced his facility and it is due to how seriously he takes things that John Wick works so well as both the character and the film.

John Wick does a bit of globetrotting this time as well. We still see The Continental (soon to be a TV spinoff it seems) and Lance Reddick as the desk clerk, Charon, as well as Ian McShane's enagmatic Winston in Manhattan, but we also get to see Rome, Italy as well as Montreal (which stood in for some of New York). The change in venue gives the movie a real flair and it's interesting to see just how deep this underground network of assassins really goes.

It's rare for a sequel to surpass the original, but John Wick: Chapter Two does just that. I think that success was not a given and when Wick turned out to be embraced, they went all-out for this sequel, essentially ramping up everything that made the first film so good. Now that we know this is going to be a trilogy, I can't wait to see how Wick's story ends - but I'm sure of one thing - he isn't going to go out quietly.