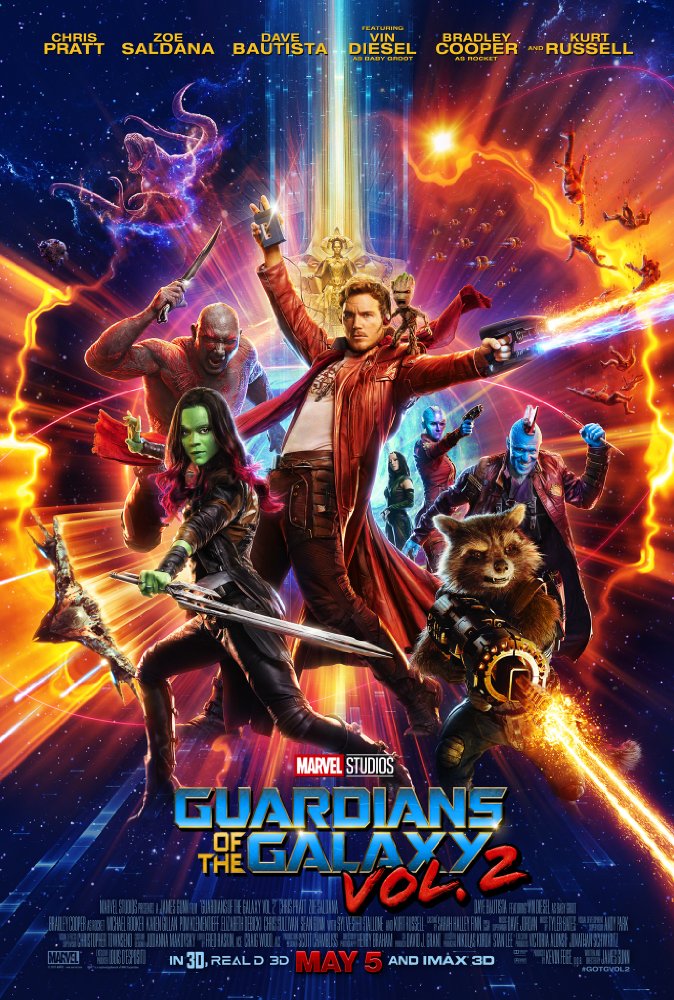 Guardians of the Galaxy Vol. 2
The Second Round Feels as Fresh as the First
Chris Kavan - wrote on 05/18/17
The first Guardians of the Galaxy was a departure from the typical Marvel movie. It was a lot more fun, in my opinion, with much more unique characters (such as a talking raccoon and a living tree that could only say "I am Groot") and a truly kick-ass soundtrack. But now that I know (kind of) what to expect, could the second time around with these characters be just as good? I'm happy to say, it was pretty damn close and is totally worth catching up with the gang.

The film opens in the past where a digitally de-aged Kurt Russell is romancing Star-Lord's (Chris Pratt) younger mother - while also planing a very alien plant. We skip to present day where the crew is battling an inter-dimensional beast for The Sovereign, a race of genetically-superior (and super golden) humanoids who grow the perfect person rather than do it the "old-fashioned" way. But while the action takes place in the background, we know this is a Guardians of the Galaxy movie because the now-baby Groot (Vin Diesel - possibly on helium) is grooving along to Electric Light Orchestra's Mr. Blue Sky while the multi-tentacled beast is flailing around, guns are blazing, explosions - all the fun. Our heroes prevail - and get their prize, Gamora's (Zoe Saldana) sister, Nebula (Karen Gillan) who they plant to take back to the Nova Empire for a big reward. But the batteries they were supposed to be protecting end up in the pocket of Rocket Raccoon for no other reason than he felt like it. Soon enough, The Sovereign are in pursuit, seeing this as a slight worthy of execution - and shortly after The Ravagers are hired to find them.

The film then takes us on two very different roads. On one hand we find out that Star-Lord's father, Ego (Russell) has finally found his son and wants to be a part of his life - he introduces them to his empath pet Mantis (Pom Klementieff) and though he has misgivings about this sudden meeting, with Gamora's urging he takes the trip to his father's planet (really, himself - Ego is a living planet who can take on human form) along with Drax (Dave Bautista). Meanwhile, Rocket and Groot find themselves at the mercy of Yondu (Michael Rooker) and his crew, who mutiny when they feel their boss is being too soft and Nebula gladly takes control, in return for a heavily-armed ship, leaving the unfortunately-named Taserface (Chris Sullivan) in charge.

These two stories have one thing in common - family - as Peter Quill comes to terms with who his father is - and what that means for his future, Rocket shares a surprisingly touching moment with Yondu to try to understand why he keeps pushing those closest to him further away and Gamora learns why her murderous sister holds such a grudge. For a movie featuring a lot of laughs and plenty of action, Guardians also manages to find a lot of heart. It's good so see characters like Yondu, Drax, Rocket and Nebula get more fleshed out and learn what makes them tick. Yes, we still get plenty of Chris Pratt, who has a great time with Kurt Russell, but we get a lot of the other character's too. One must give a short out to Bautista for continuing to provide the greatest comic relief, along with the adorable Baby Groot.

The movie hits all the beats - the music, the action, even Stan Lee (who is finally given a real reason for all those cameos in the previous films) - plus, don't leave early, or you'll miss one of the five teasers after the film. Sylvester Stallone shows up as one of the main Ravager leaders, Stakar Ogord while Elizabeth Debicki plays The Sovereign leader. Throw in a soundtrack with Brandy (You're a Fine Girl), Fleetwood Mac's The Chain, Jay and the American's Come a Little Bit Closer and Cat Steven's Father and Son, and a cameo from David Hasselhoff - well, what more could you want?

Vol. 2 may not have been as big a surprise as the first movie, but I can say that out of the many MCU sequels, this is one of the better and expands a lot of the characters. It doesn't have a direct connection to the ongoing Avengers storyline, so it will be interesting to see how they factor in to the big Infinity plot, but it's still quite enjoyable and any fan of these superhero movies will be enthralled.