3/4

2.5/4

4/4

3/4

2.5/4

2.5/4

3/4

3.5/4

2.5/4

3/4

2.5/4

3/4

3.5/4

3/4

3/4

2.5/4

3/4

3.5/4

2.5/4

3/4

2.5/4

2/4

2/4

3/4

3.5/4

Next 25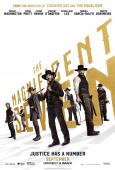 Magnificent Seven, The (2016)
Still Magnificent a Second Time Around
3/4 stars
I'm always wary of any reboots that come along because of how mixed the results have been in the past. But The Magnificent Seven was different. For one, director Antoine Fuqua has proven himself a competent and talented director - especially when teamed with Denzel Washington (and Ethan Hawke for that matter). For another, Fuqua assembled an equally-impressive cast - with Washington and Hawke being joined by Chris Pratt, Vincent D'Onofrio, Byung-hun Lee, Haley Bennett, Peter Sarsgaard and two relative newcomers in Manuel Garcia-Rulfo and Martin Sensmeier. Some people might say the cast is too PC what with the overwhelming diversity - but it works out in the film's favor for sure. Lastly, this is the final film for composer James Horner, who finished the film shortly before his death. Taken together, while Magnificent Seven may not get too deep - it is supremely entertaining and is solid all around.

Before we get our disparate group together, we must know what we're up against. Thus we join the citizens of Rose Creek, who are chafing under the yoke of Bartholomew Bogue (Sarsgaard) and his mining operation. Bogue only believes in profit and will stop at nothing to get what he wants. After burning down the local church,
Matthew Cullen (Matt Bomer in an extended cameo) speaks out - leading to several deaths. This also leaves Emma Cullen (Bennett) a widow - but she's not going to back down. After witnessing a bounty hunter take down his quarry (Washington - smooth as ever) she brazingly approaches him for a job - to save her town and take down Brogue (and his likely army). Even though he realizes this is a suicide mission - he takes on the job and soon recruits local gambler (Pratt) and sets out to recruit some other old friends.

Much of the beginning of the film is given to traveling around finding these characters - including a Civil War veteran sharpshooter (Hawke) and his new friend, Billy Rocks (Lee) who is as deadly with his knives as he is with guns; a tracking legend who may be a suffering from mild dementia (D'Onofrio); a lone Comanche warrior (Sensmeier) and an outlaw with nothing to lose (Garcia-Rulfo). The film has it all - a tough female, a Native American, a Mexican, a black lead - but somehow it never feels forced. While each character is certainly given their own personalities and stories - the film never really gets too deep into who these men are, really. It's worse for our main villain, Bogue, who gets a few scenes of "not giving a flying leap" for people, but we never get a sense of why his is so damn driven by greed.

In any case, once our merry band of seven get together, the remaining film is given over to preparing the defenses and the main battle between our boys and Bogues. Now, I was thinking the PG-13 was going to be a big mistake here - I mean, there are several hundreds (thousands?) of rounds fired and at least a hundred dead. While the violence isn't Saving Private Ryan savage - it's also not as toned-down as I expected. And thank God they didn't try to wedge in some half-hearted romance for Bennett's characters. She is supposed to be strong - and while there are a few scenes between her and Pratt - it wisely never leads anywhere. While they aren't afraid for her to show a bit of cleavage - at least they also make her badass while not completely stripping her of vulnerability.

The Magnificent Seven is the rare reboot that, if not quite as good as the original, it at least is a worthy effort and worth your time. It has more action than depth of character, but make not mistake, the cast is one of the best reasons to see this, along with a rousing score by the late, great Horner and yet another reason the modern western isn't dead yet.