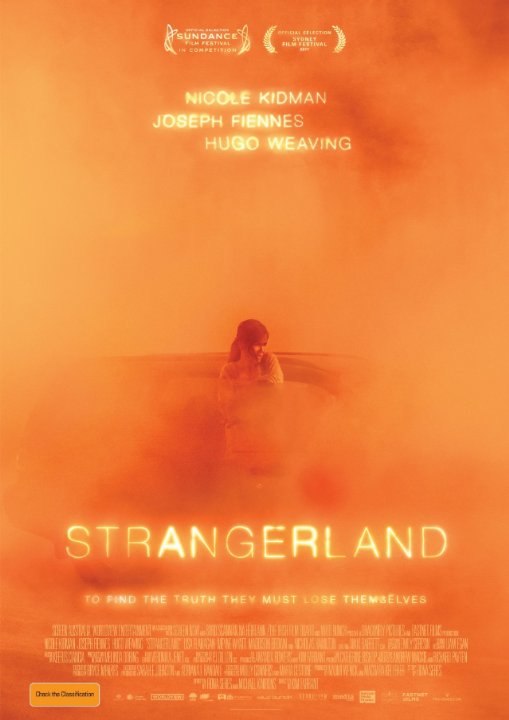 Strangerland
Outcasts in the Outback
Chris Kavan - wrote on 08/22/15
A brother and sister go missing after a duststorm hits the rural Australian town they have recently relocated to - a local search committee is organized but soon enough questions creep up about the reason the family moved and reveals a family living in denial, trying to hide or ignore some deeply troubled issues. What seems like a straight-forward story on the surface goes much deeper and thanks to some great casting, the characters manage to bring that depth as well.

I have never been a huge fan of Nicole Kidman - whether it was the films or the characters, often one of the two rub me the wrong way. However, Kidman shines here - she portrays a woman who at time vulnerable but also assertive - with a simmering sexual desire hidden just under her calm demeanor. On the other side her pharmacist husband, played by Joseph Fiennes, seems the opposite - a cold, distant man who only shows his emotional side in a Straw Dogs kind of way - when he is pushed too far (and often jumps to the wrong conclusion) resulting in brief, intense bouts of violence.

The other side of this triangle is Hugo Weaving. Know for high profile fantasy roles (think Lord of the Rings or the Matrix), many overlook his more nuanced side. Playing the small-town sheriff with a fair bit of swagger, he presents a more cool side - he is comfortable in his own skin and forms a bond with Kidman that she seems unable to get from her husband. I didn't think the heat would be there - but his interaction with Kidman get intense at times.

Rounding out this cast are Maddison Brown and Nicholas Hamilton who play the two children who go missing. Tommy is a young, quiet boy who has a hard time sleeping and often goes out for late-night walks. Lily is the daughter whose budding sexuality makes her popular with the young men around town - but has gotten her into plenty of trouble. Like mother like daughter - whether this issue is psychological or brought on by something more sinister is left up to the viewer.

Strangerland is a film that I like to think of as a slow boil - it builds and builds - it might move too slow for some, but I found the mounting tension to be excellent. If There is one thing that bothered me it was the rather abrupt ending that left a bit too much unresolved for my taste. That being said - the film as a whole contains some excellent scenes - palpable confrontations, some rather deep conversations and even a few unhinged moments - you know, a typical family drama.

The setting is as much a character as the actors. This is small-town community in Australia. The locals are a bit abrasive to outsiders, the dust is everywhere and the heat is unforgiving. It is mentioned time and time again that the chances for survival of little to none as the days pass and no trace is found. The cinematography is pretty good at showing just how lonely things can get.

While the films as a whole works well, there are some distractions. The diary narration coming from Lily just serves to confuse things as far as I'm concerned. The movie plays around with the fact she may or may not have been abused, but doesn't really push the issue nor go in too deep with why she chooses the path she has. As I said, the ending also left a lot to be desired (for me).

Overall, I found the movie to be intense - with some fantastic performances and an excellent setting. It may be slow going, but if you like character-driven drama, this will hit home.