2.5/4

2.5/4

3/4

3.5/4

2.5/4

3/4

2.5/4

3/4

3.5/4

3/4

3/4

2.5/4

3/4

3.5/4

2.5/4

3/4

2.5/4

2/4

2/4

3/4

3.5/4

3/4

3/4

3.5/4

2.5/4

Next 25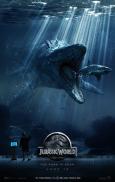 Jurassic World
Ushering in the Future by Honoring the Past
3/4 stars
Jurassic World is the rare sequel that pays homage to its roots while offering up plenty of thrills on its own. While the depth of characters leaves the most to be desired, I can't argue that the film is a tried and true summer blockbuster that lives up to the hype.

The story seems to follow the 1993 original while none-too-subtlety kind of ignoring Lost World and Jurassic Park III. And you know what? I'm fine with that. We finally have the vision that John Hammond wanted to present - a fully functional theme park where dinosaurs indeed roam the Earth once again. A brand new multimillionaire, Simon Masrani (played by Irrfan Khan) now owns the park. It has made plenty of money over the preceding 20 years, but costs have also gone up. Thanks to head scientist Dr. Henry Wu (played once again by BD Wong - the same role he originated in Jurassic Park) the theme park has rolled out plenty of new "attractions" to keep the public interested.

PR head Claire (Bryce Dallas Howard) has just sealed a deal with Verizon to sponsor their brand new attraction to open up in mere months - the genetically-modified hybrid dubbed the Indominus Rex. But Masrani is a bit concerned about its security and calls on former Marine Owen (the always welcome Chris Pratt) to check things out before he signs off. Meanwhile, Claire's nephews (Ty Simpkins and Nick Robinson) are visiting the park and are given over to her assistant to worry about while she is off on pressing business. Owen is also dealing with an InGen (remember them?) representative (an oily Vincent D'Onofrio) who is impressed with his work with training velociraptors (in hopes that is leads to the militarization of dinosaurs in the future). Rounding out the cast are Jake Johnson and Lauren Lapkus as two computer techs, Omar Sy as Owen's right-hand man and Judy Greer as Clair's sister.

Introductions aside, none of these characters are really given more than a cursory personalty. It also means the "romance" between Howard and Pratt feels a bit forced and kind of extraneous. It's the main reason I have to bump it down a notch - that, and they spend too much time trying to establish these paper thin characters before moving on to the meaty aspects (and the dinosaurs).

That being said, once we are finally introduced to Rex 2.0, all hell breaks loose and things never let up. We have dinosaur on human carnage, dinosaur vs. dinosaur carnage and plenty of running, jumping, dodging and lots and lots of deaths. In fact, I'm surprised they killed off as many people as they did. For a PG-13, I think they pushed things about as far as they could (given that the U.S. is more lenient towards violence compared to language or sex). It might be a bit much for the young kiddos, but I'm glad they didn't tone things down much.

The reason I can endorse this whole-heatedly, however, is how much fun it was comparing it to the original. The cast lines up quite nicely with the original Jurassic Park crew (two kids, rogue, nice lady, rich guy, jerky guy you want to die) and not only are the characters reminiscent of the original film, but they actually go back to the original Jurassic Park at one point - and use John Williams' original theme to some nice effect. For me, it was a nostalgic look back while fully grounding itself in the now. I love the way its mixed old but still managed to keep things fresh.

All in all, Jurassic World left me with a good feeling. While I really wish the film offered a bit more depth in the character department, overall and excellent summer blockbuster and one worthy of carrying on the Jurassic Park legacy.