2.5/4

2.5/4

3/4

3.5/4

2.5/4

3/4

2.5/4

3/4

3.5/4

3/4

3/4

2.5/4

3/4

3.5/4

2.5/4

3/4

2.5/4

2/4

2/4

3/4

3.5/4

3/4

3/4

3.5/4

2.5/4

Next 25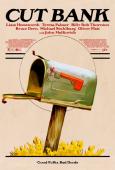 Cut Bank
Small Town, Big Trouble
3/4 stars
Cut Bank is Coen Brothers-esque thriller/mystery set in the small town of Cut Bank, MT (the coldest spot in the nation!). While it might not have the same impact as, say, Fargo, thanks to a strong cast it pulls its weight and spins a harrowing tale that once again proves the best laid plans of mice and men oft go astray.

Dwayne (Liam Hemsworth) wants nothing more than to leave the town behind, hopefully with his girlfriend, Cassandra (Teresa Palmer) joining him. She is practicing to hopefully become the next "Miss Cut Bank". He has a dead-end job working for Big Stan (Billy Bob Thorton) while his father is near death. One day while out in the field while filming his girlfriend for her pageant number he catches a murder of the local mail carrier (Bruce Dern). Local sheriff Vogel (John Malkovich) begins the investigation and a representative from the government (Oliver Platt) stops by, as this is federal crime involving the post office. Meanwhile, local loner Derby Milton (a coke-bottled eyeglassed and nearly unrecognizable Michael Stuhlbarg), who everyone seems to think died awhile ago, comes out of hiding as he is missing a very important package that was supposed to be delivered.

That is the setup - but the way things play out is highly interesting. It turns out that while Derby may stutter and look a bit slow, he is also apparently super-human strong, as he has no problem taking on people who are younger, stronger and (one might think) smarter than him. His quest to find his missing package leaves a trail of bodies. The Sheriff, stalwart and terse, tries to piece things together - meanwhile, Dwayne watches as his carefully-laid plan crumbles around him and his dreams of leaving Cut Bank behind go with it.

For the most part, the casting is superb. When you have names like Malkovich, Dern and Thorton around, it lends a nice weight to the film. I especially have to hand it to Stuhlbarg - who played a great role in Boardwalk Empire and here, he can add another unique and terrifying role to his resume. That's why it's a bit of a letdown that Hemsworth was cast in the main role. Much like fellow young actor Taylor Lautner, I never really feel anything for the roles they play. There's just not enough range of emotion or heft of character to stand out - especially when the rest of the cast (even Palmer) shines so bright.

Otherwise, for a small-town thriller, Cut Bank does an excellent job of keeping things rolling. The twist isn't really that hard to spot - but even when you know where things are going, the story and characters are riveting enough to keep you watching.