2.5/4

2.5/4

3/4

3.5/4

2.5/4

3/4

2.5/4

3/4

3.5/4

3/4

3/4

2.5/4

3/4

3.5/4

2.5/4

3/4

2.5/4

2/4

2/4

3/4

3.5/4

3/4

3/4

3.5/4

2.5/4

Next 25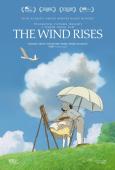 Wind Rises, The ( Kaze tachinu )
A Beautiful Dream Made Real
3.5/4 stars
Hayao Miyazaki and Studio Ghibli has delivered some of the best animated films I have seen: from the tale of two young sisters who discover a forest spirit and a catbus in My Neighbor Totoro, to the bathhouse of the gods in Spirited Away, the battle of industry vs. nature in Princess Mononoke to worlds of wonder and magic in Kiki's Delivery Service and Howl's Moving Castle - I have never been disappointed by the results. It has been reported that The Wind Rises could very well be Miyazaki's final film (though it may also not be - reports vary) but if this is indeed the case, he has gone out with one of his strongest films.

The Wind Rises takes the lives of the two people, author Tatsuo Hori and engineer Jir˘ Horikoshi (who designed the Japanese Zero so prevalent in WWII) and combines them in to one character (also named Jir˘ Horikoshi). We follow the character from a young boy dreaming about designing planes to a student to one of the brightest aeronautical engineers in Japan and we see him take his dream and make it a reality - even as WWII looms in the background. The film also depicts many events that happened, from the devastating Great Kanto Earthquake of 1923, to Japan's economic and technological struggles to the Tuberculosis epidemic - and though it is never directly addressed, the shadow of WWII always hangs over the film.

Beyond this, the story is about relationships. From Jir˘'s co-worker Honj˘ to his boss Kurokawa to the dreams he shares with Italian designer Caproni - the relationships drive the film. But the greatest is reserved for Nahoko Satomi. He first meets her as a young girl when he helps her and her mother during the earthquake, but leaves abruptly after helping them. Year later, they meet again, and the relationship becomes much more. Nahoko, like her mother, suffers from Tuberculosis, and things are complicated further as Jir˘ finds himself so dedicated to making a great design, he is often away from home. He also finds himself targeted by the secret police. But throughout this, you can truly tell the bond these two characters share - soul mates, if you will.

Some may say The Wind Rises glosses over Jir˘'s role in shaping WWII - but he is also presented as a man who values peace above war. From the early dreams with Caproni (the only truly fantastical elements of the film) he wants to make great designs, but not for war. Later, he even suggest removing the guns to achieve greater performance - a suggestions that is met by hearty laughter from his team. The man was a genius who just so happened to come around at a time when the world was enveloped in the greatest conflict of the modern era - it's not wonder his planes ended up playing a major part in Japan's war effort.

I'm not going to delve into the politics of the film - rather, I'm going to bask in the wonder. Once again, the animation is top-notch - the earthquake scene (and aftermath) alone are worth watching. But the beauty in something as simple as a paper plane, to raindrops to tears - this is what stands out. And the musical score from Joe Hisaishi is a superb compliment to the amazing visuals. It will touch you in one way or another. The Miyazaki films have always benefited from getting a great English cast, but it's really outdone itself this time. While I'm always a proponent of watching a Japanese original with subtitles, if you watch an English dub, Studio Ghibli films are the ones to appreciate. Joseph Gordon-Levitt, Emily Blunt, Stanley Tucci, Martin Short, Mandy Patinkin, John Krasinski, William H. Macy, Mae Whitman and Werner Herzog all combine to deliver not just quality performances, but truly memorable ones as well. I would say it is the best English-language version to date.

In the end, this is story with a lot of emotion and heart - and one of the most personal for Miyazaki. While I think this falls on the more mature side (it's not exactly an animated film for kids), it has elements that both young and old can appreciate and will certainly leave its mark on you. If this does turn out to be Miyazaki's final film, I'm glad this is what he gave us - a culmination of an exceptional career, one of which I have a feeling will never be matched.