2.5/4

3.5/4

2.5/4

2.5/4

3/4

2.5/4

4/4

3/4

2.5/4

2.5/4

3/4

3.5/4

2.5/4

3/4

2.5/4

3/4

3.5/4

3/4

3/4

2.5/4

3/4

3.5/4

2.5/4

3/4

2.5/4

Next 25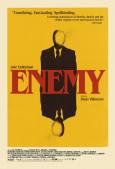 Enemy (2014)
Do You Know the Enemy?
3/4 stars
Enemy is really Jake Gyllenhaal's chance to flex his acting muscles and thanks to a twisting somewhat creepy (and slightly incoherent) effort from director Denis Villeneuve, those muscles get put to the test. It it a film ripe with symbolism and may take a few repeat viewings to understands, but the effort is worth the extra time.

We are given a view into the lives of two men: it opens with a voyeuristic scene set in some underground sex club before taking a completely different turn as we enter the life of a lonely history teacher (who lectures on the role of repetition throughout history). But both men are represented by Gyllenhaal. We soon learn both men also have relationship issues - the professor meets up often with his girlfriend, but their relationship is quite detached and cold. Meanwhile the hot-headed one has a wife who is six months pregnant, but, as we know from the opening, has some other interests on the side.

When a colleague suggests he check out a local movie, our professor discovers a minor actor in the background who looks exactly like him. With a little sleuthing, he tracks down his other films, his talent agency - even his home - in essence, becomes obsessed with him. But the initial meeting doesn't go as planned - and he soon regrets his decision to track him down. The two don't just look the same - the scars on their bodies match as well.

This begs the question - is Gyllenhaal really playing two separate characters at all? Or is he just one man with an overactive imagination? In fact - you could argue that nearly none of the characters in the film are real and that Gyllenhaal is creating an elaborate set-up based on his crippling fear (or sexual deviancy) he feels about women. Hence the abundant use of spiders throughout the film. This odd inclusion gives the film a definite David Lynch vibe and ups the psychological thriller factor (and general unease) the film delivers. One of the trivia tidbits reveals the cast and crew had to sign a confidentiality agreement that specifically forbid them from discussing the meaning of the spiders at all.

Enemy is the kind of film that doesn't get a huge following - it had a limited release and plays mostly to the arthouse crowd - and that's too bad. For is really does allow Gyllenhaal to shine and, despite the somewhat vague storyline and symbolism that is open to interpretation, it will leave you wanting to watch it again just to make sure you saw what you actually saw. And that's a rare feat for any film.