3/4

2.5/4

4/4

3/4

2.5/4

2.5/4

3/4

3.5/4

2.5/4

3/4

2.5/4

3/4

3.5/4

3/4

3/4

2.5/4

3/4

3.5/4

2.5/4

3/4

2.5/4

2/4

2/4

3/4

3.5/4

Next 25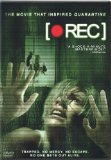 [ Rec ]
Catch the Fever!
3/4 stars
Finally saw this original version. As I had seen Quarantine first, I wasn't sure how this would hold up, but it was surprisingly good despite almost the exact same story. This one felt a little more raw and unpolished, but it helped rather than hindered. If you're a fan of horror, this should be seen, even if you've already watched Quarantine.

The pace goes a little faster, there is still plenty of gotcha! moments, mixed in with an overall feeling of helplessness and dread. If there's one complaint, it's that the characters are pretty flat - there's not much in the way of development beyond some pretty general strokes.

The ending is also a bit different, but I think it worked just as well, even if it had a more religious bent. Though it falls in the realm of a 28 days later - it has its own flavor. Plus it has one of the greatest images in the camera angle that looks down the stairwell with an infected zombie-ish person looking up on every level. Quarantine tried to imitate this shot, but it works so much better here.

Any fan of horror would do well to check this out.