2/4

3/4

2.5/4

3.5/4

3/4

2.5/4

3/4

3.5/4

1/4

1.5/4

2.5/4

3.5/4

4/4

3.5/4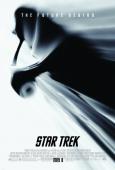 Star Trek
"Beamed Up Reboot"
3/4 stars
I have watched the movies and the tv shows but i dont consider myself a "Trekkie". Therefore, this movie wasnt that big for me even though its one of the biggest summer releases this year. That said. "Star Trek" is still a very good way to start off the summer movie season. The Star Trek franchise has had many shows and movies. Now, we get a reboot like "Batman Begins" did for the Batman franchise. This reboot doesnt quite reach the level of that reboot, but it's things look very promising. This one does what any first movie in a promising franchise should accomplish. What has been done here is an injection of more real feeling Star Trek Universe. The feel of new "Star Trek" at first may scream the CW , due to the presence of actors who seem as they would come from shows on that channel. The opening to a movie is very important, so what we get with this movie's opening is something thats entertaining, tense, epic and suprising powerful. Those things dont change until the final frame.To much suprise, this movie reveals something much more of substance and entertainment.


The story shoots some fresh air into the franchise in creative ways i wont spoil, but it's story works because is driven mainly by its characters and the paths each of them take to becoming the characters we all know. "Star Trek" has made its characters feel real and relatable. These are characters who grow on you. Most of the credit for this effort must to the very good directing from J.J. Abrams (one of the minds who created one of the best shows on tv called "Lost"). He shows he can do real good character driven stories, as well as prooving he can do impressive action scenes (especially the wonderful first battle scene and the breathtaking skydiving scene). Abrams even manages to make a film that pleases both the trekkies and the people who know absolutely nothing about the characters or the whole Star Trek Universe in general. Abrams gets some help from a clever, suprisingly funny, and layered screenplay by Roberto Orci and Alex Kurtsman. The screenplay may not give the total package treatment to some of the characters and lack some subtleness in some areas (famous character lines from the old show and movies) , but its forgiveable.

The whole cast is shockingly well cast in each of their roles. Zachary Quinto (Only good thing on "Heroes') is perfectly cast and great in the role as Spock. He also has an uncanny resemblence to Leoanord Nemoy. I had doubt about Chris Pine play the important role of Captian Kirk because he was in Lindsay Lohan romantic comedy (enough said). Luckly, he turns in very convincing and charismatic proformance. Quinto easily gives the best proformance of the movie, but close behind is Karl Urban, who plays Leanord McCoy brilliantly. Simon Pegg is good and funny in small role, but totally underused. There is also some strong work from Zoe Sadala (adding a strong female character to the group of men), John Choo, and Yanton Yelchin (accent a little too thick at times). Eric Bana plays the villian that has interesting back story but i felt he was way underused because he is talented actor. He shouldve felt like a fresh villan, but ended feeling like a villan of the week. That said, he still does a nice job with what he's given.

"Star Trek" is a big budget sci-fi adventure so this type of movie needs to have major eye candy. Well, the movie does as the cinematography (interesting new technique with adding "lens flares") is very good. The score is fantastic and really sticks out. I'd even say its worthy of some nominations. There is some slick, tight editing that keeps the movie going at a exhilarating pace. Some of sets are very cool and very well done, as well as the costumes. "Star Trek" has a lot to praise but its not a flawless film. There is a plot hole or two, plus the ending couldve packed a lot more, and some of the actors get underused or just not used well. That said, its still a very well made film that packs more depth, story, and overall substance of many summer blockbusters. "Star Trek" is really good first step for a new franchise. I probably wouldve like this better if wasnt more of fan of the Star Wars franchise (original trilogy). Dont miss out on a visually stunning epic sci-fi adventure that has the exhilarating summer action you desire while still containing a story thats sort of clever and have characters who care about. This is probably the best "Star Trek" movie.

P.S.- Please let the sequel have Shatner and Khan or the Borgs as the villian(s).