4/4

1/4

3/4

2.5/4

3/4

2.5/4

4/4

3.5/4

3.5/4

1/4

3.5/4

3.5/4

3.5/4

3.5/4

3.5/4

3/4

2.5/4

3.5/4

3.5/4

3.5/4

3.5/4

3.5/4

3.5/4

3.5/4

3.5/4

Next 25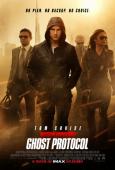 Mission: Impossible - Ghost Protocol
Exciting Thrill Ride!!! Ethan Hunt's best!!!
3.5/4 stars
Wow! And I thought Mission: Impossible III was great. But this one is a total package of explosive entertainment. Superbly paced, highly gripping, brilliantly executed & very well directed with some genre-defining action sequences that are simply exhillerating. The fourth installment in the Mission: Impossible series, the first live-action film by Brad Bird has turned out to be one hell of an movie served with explosive mixture of action & humor.

Tom Cruise reprises his role as the famous IMF Agent, Ethan Hunt. And this film, compared to predecessors might be his most demanding of 'em all. But Cruise shines again to make MI what it always has been... A one-man show. Supporting him is a team of new members this time. Paula Patton carries herself very nicely as Jane and turned out to be a great support to Ethan. Jeremy Renner as Brandt is a fresh breather & along with Simon Pegg, takes care of the much required humor in this highly intense action drama.

Every director of the series has brought something new to each film of the series. Brad Bird, the genius behind Pixar's The Incredibles & Ratatouille makes an impressive debut in this field of film-making. The brilliant thing he has done is to try to bring the action that was so far restricted to the animation world into the live-action genre. And, he did succeed to most extent. He does understand action very well & knows how to take it to the next level & MI4 has really been a very satisfying piece of work by him.