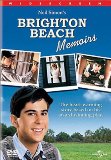 Brighton Beach Memoirs
Superb Simon
4/4 stars
Let me be the first to write a review on this great movie, after all, this is my favorite. It is based on a Neil Simon play. The main character, played by Silverman, is also portrayed by Matthew Broderick in Biloxi Blues (1988), aslo based on a Neil Simon play.
It's just a great movie set in 1937, where else, but in Brighton Beach. This is a great coming of age story of a Jewish boy named Eugene who longs to be the first Jewish all star baseball player. His older brohter gives him assistance as he goes through puberty and is attracted to anyone of the female sex. He is completely intrigued by sex, that he gets feelings for his live in cousin. If is a funny great comedy created by a genius of a playwright, Simon.
There is a small part starring Jason Alexander, who oddly enough has a head full of hair. Look for him in the scene where they are playing billiards.
I don't want to give too much away...but I recommend this to all comedy lovers. There was a great special on PBS awhile back, devoted to Neil Simon. It was great to see Silverman & Broderick comment on the same character portrayals.