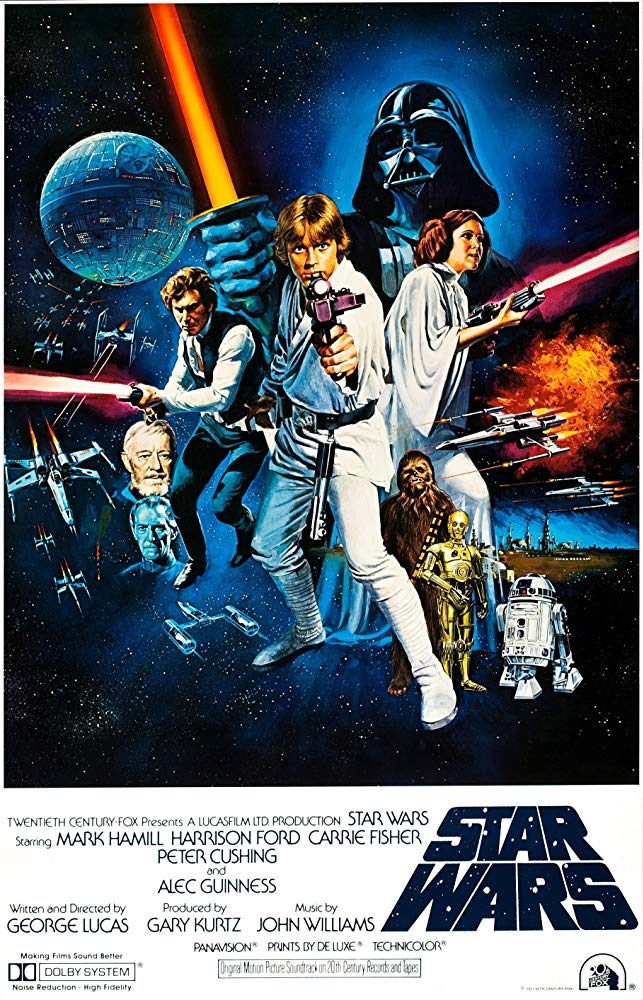 Star Wars: Episode IV - A New Hope
Star Wars: A New Hope (1977) Movie Review
John - wrote on 03/24/18
Plot: The Film Focuses On A Farmboy Named Luke Skywalker (Mark Hamill) On Tatooine Who Lives With His Foster Aunt And Uncle. Luke Is Bored With Life And Hopes To Become Part Of The Rebel Alliance Against The Galactic Empire To Bring Peace And Justice To The Galaxy. One Day He Discovers That His Aunt And Uncle Have Been Murdered. He Meets A Jedi Knight Named Obi-Wan Kenobi (Alec Guinness) Who Tells Him His Father Was A Jedi Murdered By The Evil Sith Lord Darth Vader (James Earl Jones/David Prowse) And Trains Luke In The Ways Of The Force And One Day Become A Jedi Like His Father. Along They Way He Meets A Smuggler Named Han Solo (Harrison Ford), A Wookie Named Chewbacca And Two Droids Named C-3P0 And R2-D2 To Rescue Princess Leia (Carrie Fischer) From The Clutches From The Empire. As The Film Progresses Luke Becomes A Part Of The Rebellion And Must Destroy The Death Star As Their First Step Of Overthrowing The Empire. This Film Is Fantastic And Is Very Inspirational To Me, While I Do Love This Film, However Out Of The Original Trilogy It Is My Least Favorite Of The Original Trilogy.

Acting/Characters: The Acting In This Film Is Not The Strongest In The Film, But The Actors Do A Great Job And The Characters Really Make Their Performances Work. Luke Skywalker May Be A Bit Of A Boy Scout, But Mark Hamill's Performance Makes The Character Work And Makes You Care About Him And Wish For Him To Succeed. Alec Guinness Does A Terrific Job As Obi-Wan Kenobi. He's Likable, Wise And Everything A Jedi Knight Should Be. Harrison Ford As Han Solo Is Awesome And He's My Favorite Hero In The Film. He's So Bad Ass And He's Very Unique From Your Typical Hero. Carrie Fisher Plays The Not-So Damsle In Distress Princess Leia. This A Good Example Of A Strong Female Led Done Right. She's Independent, Hot, Well Written Character And A Bad Ass. Then We Get To Darth Vader Himself. James Earl Jones IS Darth Vader And It Will Be VERY Hard To Replace Him. He's Menacing, Cool, Bad-Ass And Not A Guy You Wanna Piss Off. Peter Cushing Also Does A Solid Job As Grand Moff Tarkin. A Slimy Asshole Villain You'd Like To See Get What's Coming To Him.

Writing: While The Film Is Well Written Don't Get Me Wrong, But It's Definitely The Weakest Of The Three Films And It's Not As Strong Empire Strikes Back And Return of The Jedi. Some Of The Dialogue Comes As Corny And You Can Tell It's Lucas Dialogue At Times. However It's Not Cringy And It Works.
Action Sequences: The Actions Aren't As Good As Empire Strikes Back Or Return of The Jedi, But They Are Still Very Entertaining For The Most Part. However The Lightsaber Fight Between Obi-Wan Kenobi And Darth Vader Is Terrible. While Not The Worst Lightsaber Fight In The Franchise, But It's Very Lame And It's Not Very Realistic. However I Think Obi-Wan Dies At The Hands Of Vader It Actually Makes It Work And Makes It Heartbreaking.

Special Effects: Most Of The Special Effects Still Looks Great, And Still Holds Up Really Well. However Some of Them Are Kinda Shity Don't Hold Up Really Well.
Overall Opinion: Even Though It's My Least Favorite of The Original Trilogy, But It's Far From My Least Favorite From The Franchise. It's Still A Great Movie And I Love It.
Grade: A-.