4/4

3.5/4

3/4

2/4

3/4

2.5/4

3/4

3/4

2/4

3/4

2/4

2/4

2.5/4

3/4

3/4

2/4

3.5/4

2.5/4

3/4

3.5/4

3/4

2.5/4

0.5/4

2/4

2.5/4

Next 25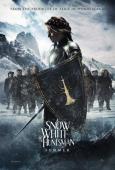 Snow White and the Huntsman
A Disturbing Fairytale
2.5/4 stars
Children's fairy tales seem magical and cute at a glance, but if you look a little deeper into the stories that parents have unwittingly fed to their children over the past century, they really are disturbing at best. With 'Hansel and Gretel' we have parents abandoning their kids in the woods followed by an encounter a witch who cooks and eats kids. 'Little Red Riding Hood' has an innocent little girl looking to do a good deed for her ill grandmother, only to come face-to-face with a man-eating wolf. How about 'Cinderella'; the tale that gave stepmothers a really bad rap?

Hollywood has also not been shy about putting an adult spin on such precious childhood memories, like the 2011 version of 'Red Riding Hood'; Guillermo del Toro's very creepy 'Pan's Labyrinth (2006) and a previous version of this very same fairy tale titled 'Snow White: A Tale Of Terror' (1997) with Sigourney Weaver filling the role of the evil queen. The point here is that these films, while invoking the name of some beloved children's tales, are hardly fare for that younger audience. 'Snow White and The Huntsman' [SWTH] falls into the same category and carries a rating of PG-13 for some gore and mayhem - meaning parents should consider if this film is age appropriate for their kids. 'Mirror Mirror' this ain't! Having said that, SWTH is actually pretty well put together for a film based on such a tale.

Freshman Director, Rupert Sanders, delivers a well paced and beautifully filmed story that feels a lot like something Peter Jackson would have directed. Writers John Lee Hancock ('The Blind Side', 'A Perfect World'), Evan Daugherty, and Hossein Amini, provide a script that stays connected to the original story line, but gives it a much grittier edge. Some of the scenes were shot on Ireland's rugged coast and are quite beautiful; adding scale to what is originally a small story.

Charlize Theron plays the wicked Queen Ravenna to great effect; balancing a mix of misandry, narcissism, callousness, and a streak of vulnerability all at the same time. Kristen Stewart's Snow White is no less complicated as a young innocent who also understands that there are special forces at play around her.
Chris Hemsworth, who has been quite busy with numerous roles of late, steps in as the Huntsman, a raucous but reluctant character who is drafted to go after the escaped Snow White.

Once Hemsworth's character realizes the evil intent of the Queen, he decides to aid Snow White instead. Along the way, they run into the Seven Dwarfs. Again, these aren't the same lovable characters that Walt Disney introduced us to. Instead we have a rag-tag group of suspicious and weary little men who now make their living by scavenging and petty thievery instead of working their played out gold mines. Familiar faces in this group include Bob Hoskins, Ray Winstone, and Eddie Marsan. Without going through the entire plot, SWTH culminates with the final showdown between Snow White and Queen Ravenna.

Even though we all know where most of this is going, I thought the entire script was well planned out and the special effects really added to the punch of the story. There were a few problems with scale for some of the digitally produced creatures (take special note of the troll), but otherwise they looked great. There is one confusing element that the writers chose to intentionally remain ambiguous about right through to the end, and I wondered if they had done so just to keep SWTH from having a nice and tidy ending. At any rate, if you're looking to find out who really is the 'fairest of them all'; skip the mirror and head to this movie!