4/4

4/4

4/4

3/4

4/4

4/4

N/A

N/A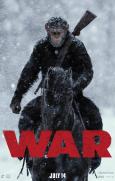 War for the Planet of the Apes
Apes. Together. Strong!
4/4 stars
2 years after the events of Dawn, Caesar (Andy Serkis) and his Apes live in harmony in their woodland home, until a military attack leaves their home destroyed and the Apes left to find a new home. Caesar, angered by the death of his wife and son, goes on a quest to find and kill the human colonel (Woody Harrelson) who sent the soldiers.

The first thing I'd like to say is that I really enjoyed this movie. A lot of people didn't like the fact that this was a more slow burn, dramatic, character driven piece, rather than 2 hours of Apes and humans fighting each other. I personally didn't mind the slow burn style, because along the way we meet new characters (mute human girl Nova, played brilliantly by Amiah Miller without ever having any dialogue, and comedy relief Bad Ape, Steve Zahn in the brilliant Ape mo-cap)

For those worried about a lack of action there are a couple of moments in the film that have action (the first 15 minutes and the last 15 minutes) but other than that, it focuses more on character than action, and the amazing Ape motion capture, which looks even better next to the backdrop of nature's beauty. And Bad Ape is very funny.

Overall, some might be disappointed, but others might enjoy the film's slow burn, character driven roots. Just a matter of personal taste.