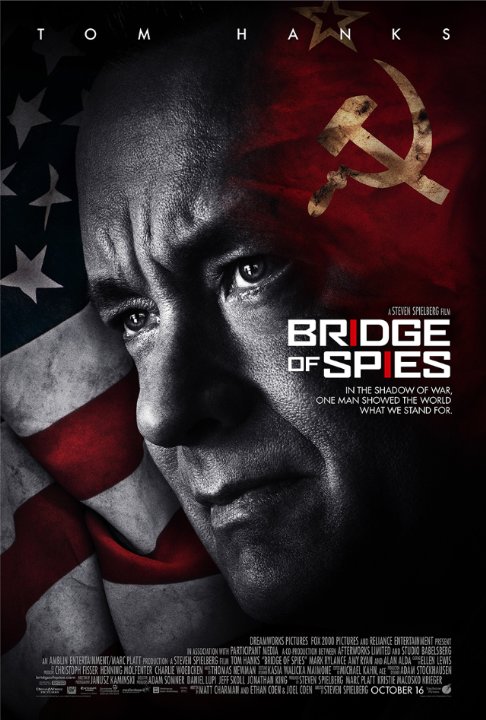 Bridge of Spies
Breathes new life into historical films
Evan Wheatley - wrote on 10/21/16
When the director of "Jaws," the star of "Forrest Gump" and the writers of "O Brother Where Art Thou?" come together to make a film, you know you're in for a treat.

"Bridge of Spies" is set in 1957 during the Cold War between the United States and the Soviet Union. Rudolf Abel (Mark Rylance) is arrested by the FBI and charged with being a Soviet spy. Insurance lawyer James B. Donovan (Tom Hanks) is asked by his partners to defend Abel in the impending trial.

Donovan is ridiculed and scorned by his fellow Americans for representing and defending Abel, as many of them would rather see him hanging from a rope. However, Donovan's success in keeping Abel away from the death penalty proves vital in negotiating with the Soviets after they capture an American spy.

Whenever I watch Tom Hanks, seldom do I see Tom Hanks. Whether it's Forrest Gump, Captain John H. Miller or Woody from "Toy Story," Hanks consistently excels at becoming the characters he portrays, and he delivers a dynamic performance as James Donovan. The character is decent and kind, but firm in upholding the law and his personal values.

Mark Rylance's portrayal of Rudolf Abel is Oscar-worthy. Abel is an awkward, mild-mannered and unusually calm elderly man, the last person you would suspect as a Soviet spy. In the face of potential execution following a guilty verdict, Abel remains cool and collected. Blown away by his lack of alarm or concern, Donovan questions, "Are you not worried?" to which Abel responds, "Would it help?"

Ethan and Joel Coen's script dishes out the perfect comedic, dramatic and thrilling elements that make "Bridge of Spies" great. Its dialogue drives the story, and while this may turn off certain audiences, I found it enthralling. Fundamental themes of integrity, perseverance and standing up for what's right are broadcasted clearly and effectively through the actions and words of the story's protagonists.

Like most of his films, Spielberg's touch is evident from the first shot. There are several scenes throughout the film in which two or more people are simply exchanging dialogue in a room. While on paper this may come across as dull, Spielberg keeps you engaged by positioning his characters in different places during a scene. Through this he is able to portray a variety of shot types and angles and simulate the effect of cuts that aren't actually there.

Spielberg's narrative direction is as captivating as his visual storytelling. "Bridge of Spies" is based on a true story, and very little is altered or fabricated for the sake of entertainment. Aside from a few minor plot points and inconsistencies of the spies' time in captivity, Spielberg and the Coen brothers stay true to the intriguing story of how an insurance lawyer from Brooklyn saved the lives of two Americans and a Soviet spy.

Novelty in today's cinema is a hallowed treasure. Unique scripts are replaced with unnecessary sequels and reboots, and dialogue-driven stories dwell in the shadow of the next Marvel blockbuster. Despite Hollywood's ever-growing lack of originality, directors like Spielberg continually restore my faith in filmmaking. "Bridge of Spies" breathes new life into historical thrillers, and is a must-see for lovers of the genre.