3.5/4

4/4

3/4

3.5/4

3/4

4/4

3/4

2.5/4

3/4

4/4

3/4

4/4

3.5/4

3/4

4/4

2/4

4/4

2.5/4

3.5/4

4/4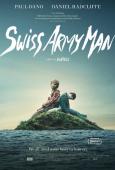 Swiss Army Man
"The farting dead body" movie of Sundance
4/4 stars
"Swiss Army Man" opens with a shot of an exasperated Hank (Paul Dano) preparing to hang himself on a deserted island. Bored, alone and without hope, a look of astonishment surfaces on Hank's face as a body (Daniel Radcliffe) washes up on shore before his impending suicide.

Desperately searching the body, Hank soon discovers that it is without life and is very flatulent. Through a series of odd and spectacular events, the body comes to life and the two go on a "road trip" of epic proportions to get Hank back home.

The score for this film, while simplistic, is by far the most inventive I've heard in years. Directors Daniel Kwan, Daniel Scheinert and cinematographer Larken Seiple craft captivating visuals, and Daniel Radcliffe gives his best performance since "Harry Potter."

Deemed the "farting dead body movie" at this year's Sundance Film Festival, there were many who loved "Swiss Army Man," and there were many who walked out of it. While not aimed for the casual moviegoer, underneath the surface-level absurdity of this film can be found relevant themes, genuine characters and a heart-felt story.