3/4

2.5/4

2.5/4

2/4

4/4

3/4

3/4

2.5/4

3/4

2/4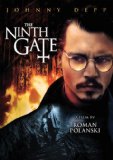 The Ninth Gate
Fun concept, ok execution
2.5/4 stars
I like the concept of this movie a lot. Searching for the book of the devil — count me in! I just felt the overall execution was a little tame. The "suspense" scenes weren't really all that suspenseful. The way they staged some of the "action" scenes were just kind of awkward. And the pacing in the 3rd act was weird. Never seen to really hit that final stride like most thrillers do. The very very end though was pretty interesting imo.

There was a nice element of mystery throughout though and I enjoyed the book comparing scenes. It's fun investigating with the lead character. But overall it just felt a little too tame. Felt like Johnny Depp's character could have had more of an arc. Depp realllllly underplays it. Maybe too much so imo.

Still enjoyed the ride but just wish it was more suspenseful. Wouldn't mind seeing a Fincher-like remake of this movie.