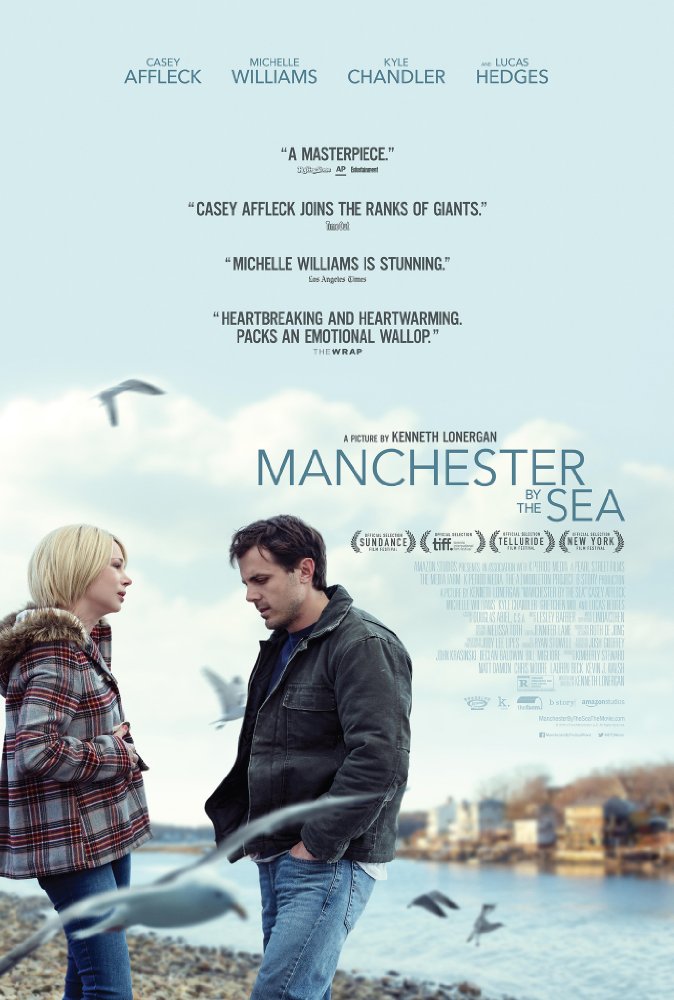 Manchester by the Sea
GOOD! But NOT great.
Pat - wrote on 12/01/16
Finally, Manchester by the Sea comes out in a movie theatre near me, and I was so excited, considering Casey Affleck's great acting abilities, and obviously, the movie's near-universal critical success. I have to say that this was a very decent film.

I know people are saying that Casey Affleck has given out his best performance of his career, which I understand to be a legitimate view. Don't get me wrong, he has a great performance, however I do think that his performance in Gone Baby Gone was just as good. On the other hand, I felt that his character was much more DEVELOPED in Manchester by the Sea. I cared about the character Lee Chandler more in this film than any character before in Casey Affleck's movie roles.

Lee Chandler is someone who we, as the audience, would initially wonder why he is so down on life, not wanting to take care of his nephew Patrick, and once we find out more about his tragic past (no spoilers), we start to care about him even more and understand where he is coming from. I absolutely LOVED this type of character development. I also thought that all the other characters in this movie and their actors and actresses nailed their roles, and I cared about them to a satisfying extent. Patrick is the character in this movie that really annoys Lee Chandler in many ways, but in reality he is the only part of Lee Chandler's life that keeps him going.

This movie is beautifully directed. It uses an nontraditional style of flashbacks I have never seen before in a film. To say to the least, this movie is unique from a directional standpoint for sure.

With great acting, great characters, great direction, what else could go wrong? Unfortunately the same cannot be said about the pacing of the film. This movie is an emotional ride, which is great for the film's effect, however this movie is SLOW. Know that going in. Don't get me wrong some movies need to be SLOW, like the Godfather, There Will Be Blood, The Sixth Sense; the difference is that this movie drags on for a bit. I will not pinpoint any specific scenes, but DANG! Some scenes felt rather awkwardly slow with useless quirky dialogue (obviously intended for comedic relief for this tragedy based film). When the music kicked in, it was great! We just needed more OF it! I listen to music in movies, and I expected a little bit more musical theme out of this movie to sink its claws into me.

The biggest complaint I have with Manchester by the Sea is that it did not feel complete. So many questions dawned on me by the unrewarding ending of the film.

Overall, this film is good but not great.