2/4

2/4

1/4

0.5/4

4/4

1/4

1/4

1/4

1/4

3/4

1/4

1/4

3/4

1/4

1/4

3/4

1/4

2/4

2/4

2/4

1/4

2/4

4/4

4/4

1/4

Next 25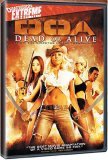 DOA: Dead or Alive
50%
1/4 stars
Action: 2/3 + Comedy: 1/2 + Love/Sex: 1/1 + Plot: 0/1 + Music: 0.5/1 + Good vs. Evil: 0.5/1 + Special Effects: 0/1 = 5/10 or 50%.

This is not "popcorn fluff", it is a step lower and it pretends to be no more. We get passing shots, which are close-ups of bikibi butts, and many, many flip and spin kicks that prove over and over how great of a shape the heroines are in and how awesome underwear looks on models.

The stand out is Holly Valance. She takes out three baddies after she throws her bra and gun up in the air, knocks two out with a towel snap, and then reaches up to put her arms through the falling bra and catches her hand gun. She points the gun at the package of the baddie behind her and orders him to snap her bra on in the back. She doesn't have many more lines, which may be why she stands out. Jamie Presley and Devon Aoki get almost all the lines, and they can do nothing with the less than basic video game drama dialogue. It is fun at first, but the puffy camp of it runs out more than quickly.