3/4

0.5/4

3.5/4

1.5/4

3/4

0.5/4

4/4

2.5/4

4/4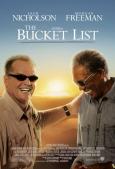 The Bucket List
The Bucket List an easy movie to watch.
3/4 stars
The Bucket List is one of those movies that one can watch without really paying all that much attention, and still get the gist of the story. It seems odd that two legendary actors such as Morgan Freeman and Jack Nicholson would be cast (and agree) to do this movie. It seems too easy for them and although the movie is ok, it leaves the audience wanting something more as we know that they are capable of Oscar winning performances.

The story focuses on two strangers, the ultimate opposites, having to share a hospital room while they are both treated for cancer. Morgan Freeman's character, Carter Chambers, is a typical working class stereotype who had to sacrifice his dreams of becoming a history professor when his wife found out she was pregnant with their first child and has worked hard as a car mechanic since then. Jack Nicholson's character, Edward Cole, is a contrast a wealthy, selfish and lonely millionaire who happens to own the hospital they are stuck in.

After both discovering that their treatments have been unsuccessful and that there is little time left, they decide to complete the bucket list, a series of experiences that they have always wanted to do. Such tasks include sky-diving, getting a tattoo and visiting the pyramids.

This film relies on the chemistry between the two actors as the last minute friends. The plot tries to become more philosophical with discussions regarding the characters beliefs about religion and family. However, one can't help but feel a knowing sense of dread as it becomes obvious that eventually the inevitable is going to come.

The film is funny in places, but also not afraid to show the unpleasantness of cancer treatment nor the fear of having the hope taken away when told the treatment options have run out. The movie is not trying to be clever, but a genuine tale of friendship.

This won't be listed as the best performance by either of the leading actors but it can be considered a decent movie to have on their resumes. Note a witty performance by Sean Hayes, from TV's Will and Grace.

The Bucket List is a movie to make audiences think about the meaning of friendship and of life itself and should be given a chance to prove itself.