2/4

3.5/4

3/4

3/4

2.5/4

2.5/4

3/4

4/4

3.5/4

3/4

2.5/4

2/4

3/4

3.5/4

3/4

4/4

4/4

4/4

3/4

4/4

3/4

3/4

3.5/4

3/4

3/4

Next 4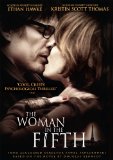 Woman in the Fifth, The ( femme du Vème, La )
The Woman in the Fifth
4/4 stars
Tom Ricks (Ethan Hawke) is a struggling writer newly arrived in Paris in the suspenseful thriller "The Woman in the Fifth." He is hoping to find his voice after publishing a little known novel. While in France he plans to reconnect with his estranged wife and daughter. The reasons for their separation are foggy at first. It is unclear whether his decision to patch things up with them is a wise act or completely foredoomed. To complicate things further, Tom finds himself destitute, unable to afford lodging, and at the mercy of the more seedy people and places that Paris has to offer.

Eventually, Tom bumps into an admirer of his work who invites him to a writer's circle event. While conversing with the literati, Tom is entranced by a woman (Kristin Scott Thomas) dressed in black. His eyes follow her all the way up to the roof top. He gives chase and finds her all alone on the terrace with the Eiffel Tower looming in a dusky backdrop. The encounter ends with her handing him her calling card, a knowing glance and a faint trail of her lagging cigarette smoke.

Director Pawel Pawlikowski creates a surrealistic world packed with sensuality and grotesque mystery. It's a four star rendezvous!