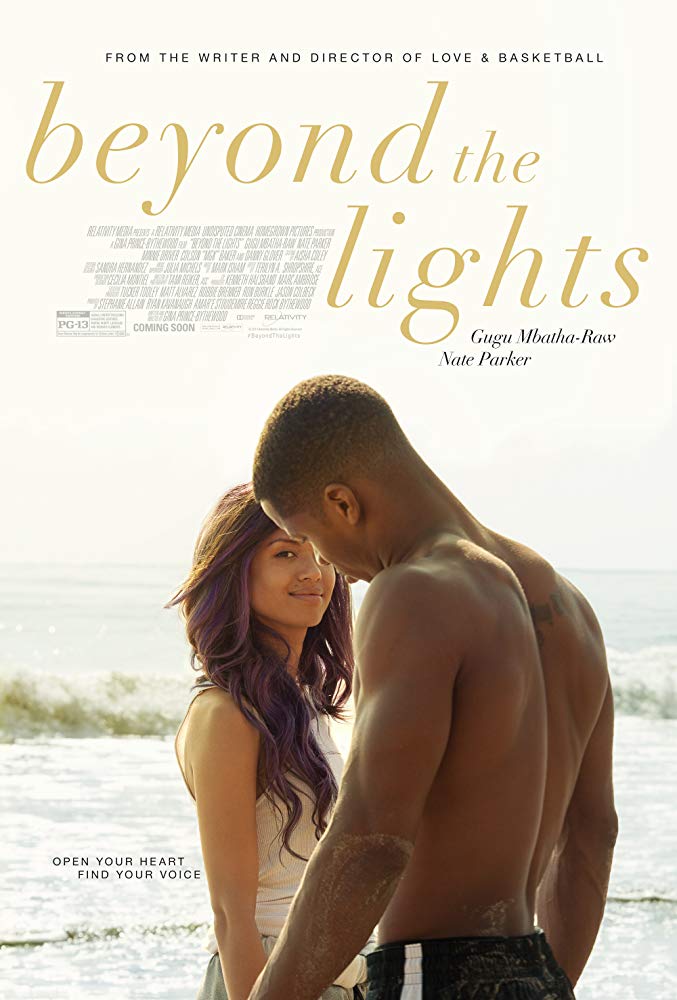 Beyond the Lights
Beyond the Bodyguard
Leslie - wrote on 11/19/14
The world of Pop music gets an unlikely makeover in the Amar'e Stoudemire produced, and Gina Prince-Bythewood directed film "Beyond the Lights." It stars Gugu Mbatha-Raw as singer/glam girl Noni Jean and Minnie Driver as her "momager" Macy Jean. We're introduced to Noni first as a little girl in London, being made ready for a talent show by her mom. Her mom is frantically trying to convince a hairdresser to style her hair minutes before she closes up shop. At first the hairdresser is dismissive, not wanting to take on the pint-sized client for fear that she will miss her date with her man. "What song are you going to sing?" she asks little Noni. When Noni proudly states that she plans to sing Blackbird by Nina Simone, the hairdresser is impressed, and decides to give her mom a quick lesson on how to style her daughter's hair. "I couldn't get a comb through it," Macy embarrassingly admits as the hairdresser comments on what state her daughter's hair is in. The line sets up one of several scenes in the movie in which the dilemma of a white mother with a black daughter, being raised in a dominant white society, is explored.

Noni's mother's role as a domineering parent/manager is established moments after Noni is declared first runner-up in the talent show, despite offering a flawless rendition of the Nina Simone song. The little girl chosen as the winner has blonde hair. Macy furiously instructs her daughter to chuck the 2nd place trophy because 1st place is the only thing that should be celebrated. Minnie Driver's English accented barbs made at the judging panel are thick and juicy enough to chew on. Noni does as she is instructed. After a protracted look, she reluctantly allows the trophy to slip from her grip, and shatter onto the ground. It's at that moment that a part of Noni is lost forever. Her innocence shatters along with her 2nd place trophy, and she's in for the ride of her life as world wide fame awaits her in the next frame.

Gugu Mbatha-Raw fits the part of the celebrity-driven recording artist and video vixen. Her sex appeal is steamy and threatens to fog up HD screens around the globe whenever "Beyond the Lights" is scheduled for DVD release. But for now, those of us who were captivated by her sensuality and acting talent alike on the short lived NBC show Undercovers, will enjoy the way she melts the silver on the screen. What's remarkable about Mbatha-Raw is that she bravely manages to do this without any makeup on, at all, in a number of scenes. Along side Nate Parker who plays Kaz Nicol, her bodyguard-police officer-love interest with political ambitions, she delivers an undeniable guilty verdict against the music industry's ideal of what a female artist should look like.

What the script of "Beyond the Lights" lacks can be overlooked by the celebrity realism it succeeds in portraying. Some of the dialogue between Noni and Kaz feels like it was ripped from a greeting card bought in a grocery store aisle. But the footage from the Billboard awards to the BET awards lends a hand in filling out the details of how pressurized the "good life" of artists may be. Therein lies the tension. Tension that is only broken, momentarily, when the chemistry between Mbatha-Raw and Parker produce tender caresses and kisses. Though "Beyond the Lights" may be a slight step back from Mbatha-Raw's performance in the historical drama "Belle", about the life of heiress Dido Elizabeth Belle, it is testament to what could be a varied and diverse set of forthcoming roles in a yet budding filmography.