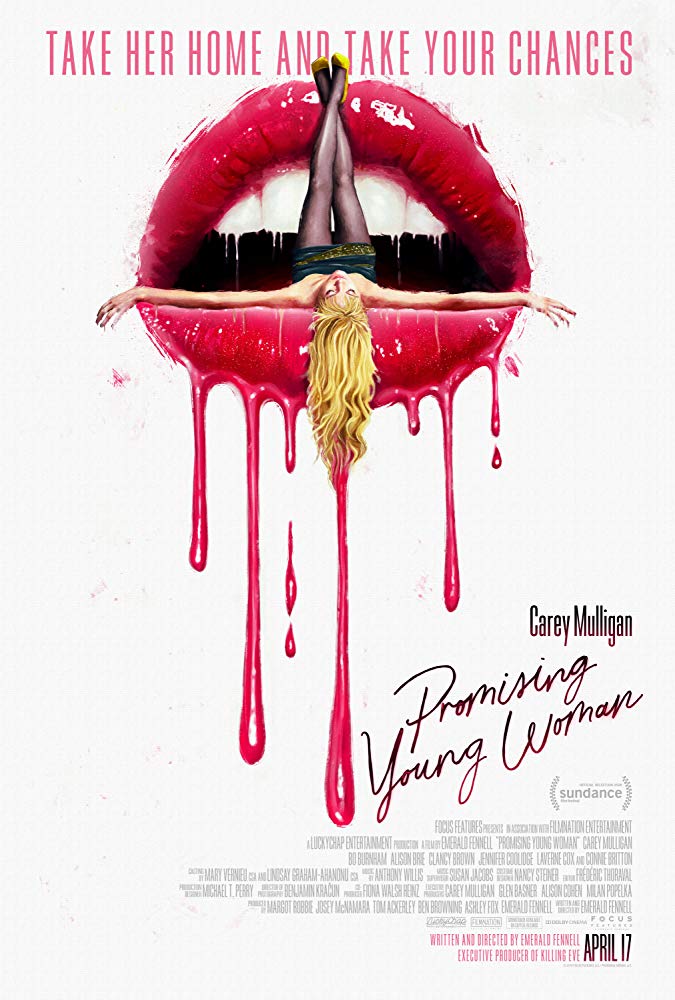 Promising Young Woman
Revenge is best severed in confetti rainbows
Matthew Brady - wrote on 01/22/21
"Can you guess what every woman's worst nightmare is?"

You know, I find it genuinely concerning that some people are angry and upset over this movie. I mean, just look on IMDB. Film is subjective and it's OK not to like this movie, but the thing I don't understand is why certain people are upset with the themes this movie appropriately presents. Even through deep inside I know why. If it scares them, good, because they deserve to be scared.

'Promising Young Woman' is a rare revenge movie that crosses several genres with one sharp sweep. Some parts are funny, other times it's romantic, but it can get DARK really quick. I thought the way it was executed was creative and interesting. It shocked me at times with its twist and turns, even though it shouldn't be surprising. The world can be so dark and treacherous that being surprised by its twisted ways is a bit foolish. Certain elements felt realistic, while other elements of the movie felt...well, like a movie.

It's nice to see that Carey Mulligan's career is getting better and better. In this movie Mulligan delivers an amazing performance that was captivating to watch. It's difficult to imagine an actor playing a character who is dealing with so much emotional baggage and vulnerability from past events in her life, but tries her best to conceal it, but Mulligan manages to find the right balance. She can be extremely funny, emotional, and really intimidating. Her drunk acting deserves some praise as well, because within the movie her character pretends to be drunk in bars or nightclubs, to trick "nice guys" who want take advantage on her intoxicated vulnerability, before she drops the act to scare them enough to teach them a lesson. The transformation from drunk to sober was nothing short of impressive.

I was surprised to see Bo Burnham here and it's great seeing him getting acting roles. He is a man of many talents; comedy is one of them and in this movie he never fails to make me smile. Alison Brie and Alfred Molina are also in this movie and both did a great job in their small roles.

I give this movie major credit for being unpredictable. I would sometimes try to guess where the story might be heading, to only have the rug pulled right under me.

It was an interesting choice to cast likeable actors in the roles of predators and despicable people. The movie smartly suggests that people like these can easily hide their sinister side through a fake smile and popularity.

Now I'm being vague about certain things because I'm hoping what I've said so far might boost your interest in checking this one. I'm starting to do that now, going in blind and leaving impressed (hopefully).

Director and writer Emerald Fennell did a solid job on delivering a fresh and unique take on a brutal topic with extreme care on the subject matter. This is also her direct debut and everything I've seen on screen shows great potential for her as a filmmaker in the future. The look of the movie has that candy-like colour to it, which made the movie look visually appealing to the eye. Revenge has never looked so colourful.

Without spoiling the ending for the movie, but the way it concludes is very strange and rare. I was both sad and happy at the same time. However, it can also make or break the movie for some, while I was kind of mixed on it. Some parts of the ending were realistic, as it was a cold reminder for us that sometimes justice isn't always severed.

Unfortunately, this is where my issues start to come in. When I said some parts of the ending was dark and realistic, well to me it didn't quite commit to that with the last few minutes of the movie. I just wished they took more of a real approach to conclude the conflict that could be plausible. I also thought the movie was a little on the nose with its social message at times.

And that's really it for issues. What, you expected more? Surprise!