1.5/4

1/4

3/4

2.5/4

1/4

0.5/4

1.5/4

1.5/4

3/4

3.5/4

3/4

1/4

1.5/4

3/4

1/4

1/4

2.5/4

1.5/4

2.5/4

3.5/4

3/4

2/4

3/4

2/4

3/4

Next 25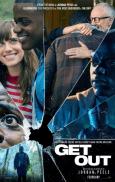 Get Out

3/4 stars
I've seen horror movies with killer dolls, demonic monsters, serial killers, and ghost, but yet this was more intense and had me on edge through out. Also the funniest as well, surprisingly.

"Get Out" is an impressive director debut from Jordan Peele, who made one of the most interesting films that came out this year. Interesting like how it's all mixed together with the horror element and the hidden symbolism within it's story. How the social commentary was told in such a way that no other film has done before, cleverly executed and more assured.

I'm glad Daniel Kaluuya, (Best known for "Black Mirror") is getting some work, because he's incredible.