4/4

3.5/4

3/4

3/4

3.5/4

3/4

3.5/4

1.5/4

1/4

3/4

2.5/4

1/4

0.5/4

1.5/4

1.5/4

3/4

3.5/4

3/4

1/4

1.5/4

3/4

1/4

1/4

2.5/4

1.5/4

Next 25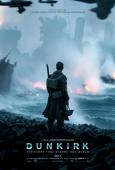 Dunkirk (2017)
Dunkirk - Review
3.5/4 stars
"Home."

You can love, hate or call him overrated all you want, but you've got to give respect to Christopher Nolan for going this old school. Nothing like cardboard props for background soldiers, inspired by the silence films era with little dialogue, and going full practical. The attention to details with scope and intensity making the overall experience harsh, but masterfully well made. Nolan has made something extraordinary and proven why he's the best living film maker working today. All of his movies have this grand scale to it, but never feels hollow.

Watching "Dunkirk" on the IMAX screen was such a overwhelming and frightening experience, but perfectly captures the terror of war those men faced. It got me pretty emotional towards the end. Gunshots sound like actual gunshots and the sound of bomber planes are like something out of a horror film. Every bullet that whizzed by made everyone in the cinema flinch (including me). It's one of the best movies I've seen so far this year. I would go as far to say it's the best war film in recent years & Nolan filmography.

My ears are still ringing from it, as I couldn't hear all that well after it ended.

The cinematography, the sound, writing, and direction are on so many levels of amazing. With Han Zimmer score being his best work yet. Being both phenomenal and hunting, leaving me cold at times. It's no surprise all the tense parts are through Hans score who puts weight to these difficult moments in the movie. And it's only the sound of a ticking watch.

I've found new respect for Harry Styles after this. Because he actually delivered a pretty good performance. Very impressive since it's he's first role and had a lot of screen time than I expected. Same thing with Fionn Whitehead, who's plays another young solider was also fantastic. The rest of the cast like: Tom Hardy, Mark Rylance, Kenneth Branagh, and Cillian Murphy were all terrific. Not a weak performance in the movie.

Now people have been complaining about the lack of information with these characters or no real main character to feel for them. I really don't think these people understand that isn't the point of the film. You understand these characters just by actions and decisions. All of this is based on how they act in a situation. No corny or cliché dialogue. It's visual story telling at it's finest. No has time talk about their back story or how they need to get back home to their wife and kids. The time is ticking, the enemy is getting closer, and your stuck with complete strangers on foreign land. The film doesn't have protagonist and antagonist.

You never see the Germans in person, just bomber planes. It makes they presence more scary and tense every time another attack happens.

Overall Rating: Please do yourself a favor and see this in IMAX. It really adds to the experience.