1.5/4

1/4

3/4

2.5/4

1/4

0.5/4

1.5/4

1.5/4

3/4

3.5/4

3/4

1/4

1.5/4

3/4

1/4

1/4

2.5/4

1.5/4

2.5/4

3.5/4

3/4

2/4

3/4

2/4

3/4

Next 25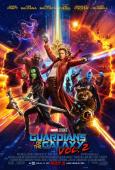 Guardians of the Galaxy Vol. 2
Guardians 2 - Review
3/4 stars
"I'm Mary Poppins y'all"

This is just insane and I love it.

"Guardians of the Galaxy Vol. 2" is so far Marvel's funniest and touching movie to date. With it's humor being more dry, weird, and visually pleasing to the eyes. James Gunn takes key elements of the first movie that we love and expands on it. The opening credits is more grand and the Skittles-like color palettes is off the roof here. I think Gunn's directing/writing is much stronger here, as he can work freely without any studious interference.

Honestly, I don't understand the mix feedback this is getting. Not as good as the first, but it's still a good movie. At least this was more memorable and joyful than "Civil War".

"Vols. 2" goes more in depth with these characters and give them arcs which later get payoffs. Exploring their broken pasts and flaws. Giving a richer understanding to these characters. That's why they so intriguing to watch, just for their weird & nonhuman personalities, yet feel the most human to us.

The performances from everyone were all fantastic. The comedic timing and deliver was all spot on. But my favorite character/performance was Michael Rooker as Yondou. For years I always thought Rooker was a great actor and in this he really shines. Having more character development and screen time than the last movie.

And I can't believe I'm actually going to say this, but Marvel finally got it right with it's villain. The thing I've been criticizing for years has finally hit it's bullseye. However, I can't go much into the villain without spoiling major plot points. Still, the villain was interesting and caused a lot of harm, not from mass destruction, but emotional harm to are heroes.

Uninformatively this goes into my problems I had with the movie. The film is a bit predicable, which you see things coming a mile away. Then again, despite being obvious of what's going to happen, it still got a reaction out of me.

The movie has some tone issues. Every time the film gets serious or sad, it quickly cuts to a comedic joke. I'm not saying the movie should be serious or anything. My problem is when you get so into the emotional scenes, but gets deflated before your eyes start linking water. Basically stopping me from having an emotional reaction and it got annoying after awhile.

And I didn't think the Awesome Mix tracklist isn't as strong as the first one. I liked the songs in this, especially the one at the end. I mean, at least it actually fits in with the comedic and dramatic scenes.

Overall rating: While "Guardians 2" has it's messy elements, but has its heart in right place and that's what matters. A dazzling adventure with dynamic action sequences from these likable characters. Oh and some of the best one liners in any other Marvel movie ever.

Vol.3 is gonna be some weird shit.