3.5/4

3/4

3/4

3.5/4

3/4

3.5/4

1.5/4

1/4

3/4

2.5/4

1/4

0.5/4

1.5/4

1.5/4

3/4

3.5/4

3/4

1/4

1.5/4

3/4

1/4

1/4

2.5/4

1.5/4

2.5/4

Next 25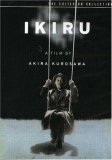 Ikiru
Ikiru (To Live) - Movie Review
4/4 stars
"How tragic that man can never realize how beautiful life is until he is face to face with death."

So after I watched the masterpiece "Seven Samurai" back in April, I couldn't wait to watch another Kurosawa movie. "Ikiru" was one of his movies that I wanted to watch next after hearing so much recommendation for it from The Criterion Collection selection. And the fact that this has been on my watch-list for quite awhile. Actually, it's been on there for over three years now and I finally got myself to watching it.

And what can I honestly say about this one.

This movie broke me, but surprisingly in the best ways.

Ikiru is a miserable and yet powerful film that has a hard hitting message. And to think that this movie was made in the 50's can have a deep impact on you and make you think twice about your life.

I have this feeling inside of me that Kurosawa is slowly becoming my favorite director. The camera work, the transmissions and the finest of acting are only naming a few things that's great about this movie. Never as a film that captured depression and people who are diagnose with cancer so damn accurate. Or how relatable it is even today. He really dose live up to be the most influential directors of all time, as he's film making style is seriously impressive beyond any words. As for right now, I only seen two of his films and I'm already in love. Akira Kurosawa is cinema. No question about it.

Takashi Shimura delivers such a raw and haunting performance that you just want to reach out and give the guy a hug. It's one of the finest piece of acting I've ever seen. I don't think any other performance broke me down like this guy did. I mean, a scene that involves a man simultaneously reminisces over a favorite song of his, whilst contemplating imminent death in a drunken state of melancholy. The sadness and regret was captured so perfectly just by his face and eyes that tells so much without him saying anything. Even as I'm writing this right now, I see have the image of Shimura sad face is implanted in my head. And to think that about two years later this guy will be in "Seven Samurai", which I didn't know while watching this. That's how good he is.

This is one of the most honest look at life anyone has ever portrayed on the screen and it will be long before anyone can do the same. What makes this Akira Kurosawa greatest achievement is by displaying the most poignant images in cinema. Watanabe (Takashi Shimura) swinging slowly in the children's playground, singing to himself, "Life is so Brief/short" while snow softly falling. And here's something interesting I found out before I started writing this. Akira Kurosawa instruct Shimura to sing "Song of the Gondola," as if you are a stranger in a world where nobody believes you exist.

Kurosawa is just a genius and he never stops to make us be so awed at his work.

Overall rating: Ikiru is a movie that I think everyone needs to see. To anyone who lived through cancer or got cancer, I know this movie will touch you very deeply. It's depressing and inspirational at the time.