1.5/4

1/4

3/4

2.5/4

1/4

0.5/4

1.5/4

1.5/4

3/4

3.5/4

3/4

1/4

1.5/4

3/4

1/4

1/4

2.5/4

1.5/4

2.5/4

3.5/4

3/4

2/4

3/4

2/4

3/4

Next 25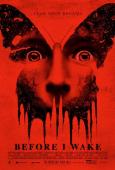 Before I Wake

2.5/4 stars
Before I wake has one of the most interesting premise for any horror movie this year (so far) - With three solid performances from Kate Boswortha, Thomas Jane and Jacob Tremblaylot.

There are some scenes in the movie that I did think was creepy, but that alone couldn't save the rest of the movie. I found it to be a very mediocre movie that's kinda dull at times and that's a very disappointing to say, as I enjoyed Mike Flanagan previous movie "Oculus".

Still haven't seen "Hush" but I heard a lot of great things about it.