3.5/4

2.5/4

3/4

1.5/4

3/4

0.5/4

3/4

3/4

4/4

3.5/4

3/4

3/4

3.5/4

3/4

3.5/4

1.5/4

1/4

3/4

2.5/4

1/4

0.5/4

1.5/4

1.5/4

3/4

3.5/4

Next 25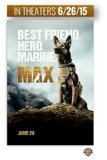 Max (2015)
The most cliched movie of the year.
2/4 stars
Not even Max himself can save this movie.

The story is about Max a truly man's best friend - deployed with the Marines in Afghanistan, Max puts his skill to the test and his life on the line. But just like soldiers, Max also suffers from PTSD - and after a particularly traumatic experience he is taken by his handler to live with his family in the U.S.

A lot of people asked me if I like dogs and the answer is yes, but I don't own a dog. I like watching movies with dogs, cats or any other animals in the movie and even when the movie sucks at least you got to see cute animals and enjoy watching them. That's why I saw Max because back in April when I saw the trailer to film I actually thought this was going to be a good movie, because the trailer was pretty sad and looked like it could have been a pretty good movie, but after seeing the movie I couldn't believe how cliche this movie was, I mean wow this is really not good.

Max the dog was the only good thing in the movie. Animals lovers or just anyone will easily love this dog and even I did. I can't believe I'm saying this but the dog give a much better performance then the other actors in the movie, now I'm not saying they were terrible but they didn't really do anything to wow me with they acting, but they was one scene in this movie were Lauren Graham (Who plays the mother) breaks down in tears at the dinner table with the family together and she's crying over her sons death and oh my god was her performance was pretty terrible and she wasn't very convincing when she was upset, but all through out the movie she did okay in the movie but it's just that one scene were is suppose to be heartbreaking moment but it didn't work at all just by that fake cry.

The movie really dose force this emotionally message in your face that really dose get annoying after awhile. I mean if the film makers were smart enough they wouldn't do that and that's to play force sad music to scene that's already sad enough that could have cut out the cliche sad music and let the performance sell the scene. I hate when movies do that, I mean the film makers playing sad music to tell the audiences to feel sad for a scene is just awful. Now some music dose work with some movies but it also doesn't work for some.

The ending to the movie which I won't give a way but the ending to this movie is so freaking ridiculous and so unrealistic. It involves guns, explosions and the father and son somehow not getting shot were they should have been just because they were in a shot out battle, I mean What the f**k? and this is a family movie by the way.

Now is this a good family movie well the family will of course overlook these flaws and enjoy the movie for what it is, so I think yes and I mean they will enjoy and you may enjoy it. If you disagree with me that's fine, but what I said in this review is staying like that and the fact that this has to be the most cliched movie of this year.