3/4

3/4

3.5/4

3/4

3.5/4

1.5/4

1/4

3/4

2.5/4

1/4

0.5/4

1.5/4

1.5/4

3/4

3.5/4

3/4

1/4

1.5/4

3/4

1/4

1/4

2.5/4

1.5/4

2.5/4

3.5/4

Next 25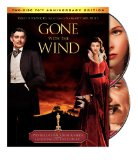 Gone with the Wind
Frankly, I do give a damn
4/4 stars
Rhett Butler: "Frankly, my dear, I don't give a damn". I love that line.

The story is about a spoiled Southern girl's hopeless love for a married man. Producer David O. Selznick managed to expand this concept, and Margaret Mitchell's best-selling novel, into nearly four hours' worth of screen time, on a then-astronomical 3.7-million-dollar budget, creating what would become one of the most beloved movies of all time. Gone With the Wind opens in April of 1861, at the palatial Southern estate of Tara, where Scarlett O'Hara (Vivien Leigh) hears that her casual beau Ashley Wilkes (Leslie Howard) plans to marry "mealy mouthed" Melanie Hamilton (Olivia de Havilland). Despite warnings from her father (Thomas Mitchell) and her faithful servant Mammy (Hattie McDaniel), Scarlett intends to throw herself at Ashley at an upcoming barbecue at Twelve Oaks.

Just like I said in my Chinatown review about checking out beloved classic like well Chinatown and some other movies as well. I have decided to take a break from the new movies that I couldn't give a crap about and I have no interest in them but as a reviewer myself that I force myself to do because that's how much I care about you all, your the reader reading this, before I got zone likes, but now I got you all and I'm very to be alive to review probably the best I've seen since...well since I'm been doing this.

This is my first time ever that I've seen Vivien Leigh in and I know it's not the last, because she give such a Oscar worthy performance and- oh wait she already won a Oscar for this movie and for once the Oscars got it right. Vivien Leigh give such a excellent performance and she played the spoiled brat that at the first I hated and then later on her character completely changed and for incredible reason that are both hash but just how life works, and she nailed that perfectly.

Now what the Oscars didn't get right is not letting Clark Gable take home gold for his outstanding performance in this movie. Hands down the best character in this whole movie was Rhett Butler, he had the best lines, every time he was on screen I was glued to it and he has a sick sense of humor that most people have, even me.

The cinematography in this movie....wow just wow, that's what I call a beautiful sunset in every scene to end the day. There never was a scene in this movie that I thought it didn't look impressive, even with the scenes of civil war at least it looked good and I know that's not a nice thing to say but hey when a movie looks good it's best to be brought up.

The director of the movie Victor Fleming who did The Wizard of Oz in the same year as this, and he directed the movie with skill and passion and it really dose show.

Now for problems: ................I don't have any.

Overall Gone With the Wind is a three hour perfection of art that isn't you bloated stick in the mood HollyWood film, not with this movie, at least I can look at this and actually call it an Oscar wining cult classic.