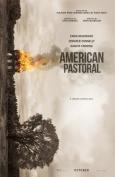 American Pastoral

3/4 stars
This film is a serious drama it will get you down and never to understand what is wrong with people when they have it all .
Perfection comes at a high price never to be underestimated.
Actors Dakota Fanning Jennifer Connelly and Ewan McGregor are superb in their roles .
I have never been so depressed by watching a film but this drama work will keep you on your toes until the final conclusion , in that sense the film does its purpose and don't think I can watch it again the pain is beyond description so it is life without the glamour and glamorous characters telling the story .