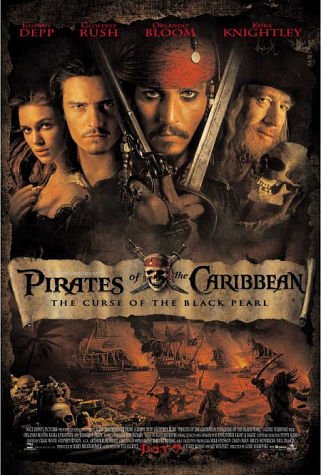 Pirates of the Caribbean: The Curse of the Black Pearl
Best Pirate Movie EVER!
KingInTheNorth - wrote on 06/24/13
When I first read "Pirates of the Caribbean" is from the producers of "Armageddon" and "Pearl Harbour" I thought: "No, I never gonna watch this movie!" Well, things have gone far...

There are a lot of pirate movie which were blockbusters but didn't enjoy me. "Pirates of the Caribbean" was just awesome. The script is very good and is filled up with great jokes which always made me laugh. Johnny Depp is just wonderful in this movie, the Academy Award nomination was justifying, well we all heard that he wanted the movie to had funny elements because he wanted his kids to watch it. And it really went that way. You can see how he was enjoying taking part in this movie.
Orlando Bloom... well he did a good job in this movie but let's don't talk about the sequels.
Geoffrey Rush, Keira Knightley and Jonathan Pryce did a well job, but not the very best.

On the whole I think this movie was very well done and it is the best pirate movie of all time. It is a shame what happened to the sequels..