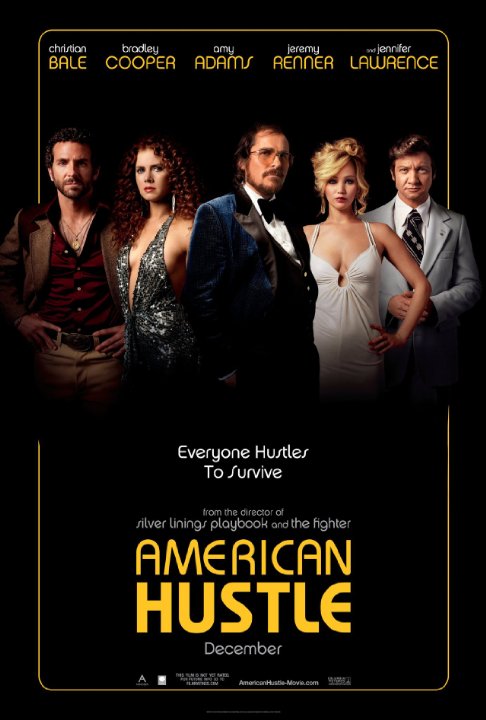 American Hustle
Relish the hustle.
memento_mori - wrote on 01/01/14
I never would have thought the strength of this movie would be so difficult to explain.

It is uncandidly inherent, in other words: you know that subjective feeling it provides when you watch it. It either bores you or grabs you and rattles you, and I am glad to report that it did just the latter, constantly.

The scope of this movie is divided between its characters. We start at one hilarious person and go to the next. From the hairdos to the way the streets looked to the mannerisms of this stellar cast to the movement of the camera, everything seemed like it was huge and deserved your concentration, especially the actors who put their hearts into their characters to make them memorable, in which they succeed admirably.

Directors should give their actors the space David O. Russell gives his, that way the may have a good chance at getting iconic material, all by accident. I couldn't decide which was my favorite character, because every person is given so much insight and reason to both love and hate.

But watching his actors isn't all Russell is capable of - Jean-Marc Vallée, I'm looking at you - because I am pretty sure he explores every element of photography possible, from wide shots to slow motion to track-in shots, the list goes on. To say the least, the style looks as loyal to the period it encompasses as I could possibly envision it.

Not a single thing is ignored in this movie, and that is exactly why it is precious to me.

It's the Picasso of passive-aggressive karate! A king among soundtracks, a lord of dialogue and a gift to its medium. I love this movie beyond explanation and justification, and frankly, sometimes the two aren't needed. It's as re-watchable as a Scorsese film, and resembles it in a billion ways, too.
It ain't Goodfellas, but it's of the same lustrous, fantastic breed.