3/4

1.5/4

3.5/4

2.5/4

3.5/4

2.5/4

3/4

2/4

4/4

3/4

0.5/4

3/4

3/4

3.5/4

3/4

1/4

4/4

3.5/4

4/4

2/4

3/4

3.5/4

4/4

4/4

4/4

Prev 25 | Next 25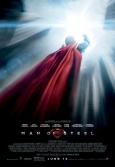 Man of Steel
Blissful exhilaration.
3/4 stars
Okay, like I have mentioned many times in the past: I have humility.

Almost five months after the release of Man of Steel, I decided to give it another watch to see if I maybe over-hyped myself or showed too much of my judgmental side.
I took a much closer, less biased look at Man of Steel, and in conclusion: I am pleased.

Don't get me wrong, Man of Steel is a very flawed movie. I still think Christopher Nolan should have written it, the performances of Cavill, Adams, Fishburne and others are completely wasted, the bullies push around Clark for no reason, the relationship between Clark and Lois is weak and some scenes get sloppy overall. But, since I am writing this review to make up for all my ranting in June, let's talk about some of the thing that I liked:

The main issues of Metropolis as well as Smallville are addressed in a very subtle manner, to say the least. I loved the social conflict displayed between Kal-El and the townspeople when they find out who he really is. It gives more insight into our main character, like in the comics, and shows us how humans would most likely have reacted as well. The intention was for him to rise above all and be viewed as a God, when the man in steel was in fact shunned at first glance. Excellent storytelling.

The action is directed fabulously by visual master Zack Snyder. I may not have liked his films in the past (300, Watchmen), but they both looked incredible. So does this one, in terms of roundedness and exhilarating action sequences and special effects.
Admittedly, the Metropolis destruction scene near the end does go over the top, but I could forgive the faults for the great chemistry that the brewing situations and conflicts between Kal-El and General Zod had to offer.
Hans Zimmer's score was very powerful and emotion-evoking. Remember when Spielberg said that John Williams' score added 50% quality to Jaws? I think something similar can be said in relation to the quality of Man of Steel, as well. Zimmer knows when to add or leave out a score to evoke a certain atmosphere, and it works perfectly in certain shots in this film.

In the first Superman film that I thought was legitimate and entertaining action and story wise, I enjoyed the differentially-received Man of Steel much more at second glance. It deserves at least 75% on Rotten Tomatoes. The fact that Spider-Man 3 and Iron Man 2 have a higher rating than this is a crime in itself.