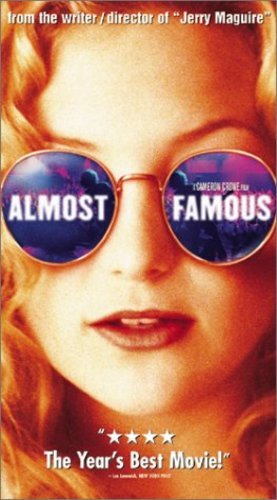 Almost Famous
The rock film of a generation.
memento_mori - wrote on 09/25/13
To see a film like this is not exactly relatable for me, but one of the most significant throwbacks of my disposition… If that makes any sense.
With that said, you know I'm not a 'party animal', but I, like many others am an aficionado of the rock genre, which is sadly deteriorating as our musical society becomes more and more indigent in quality, and wealthier and wealthier in bad taste.
This movie is 13 years old, and yet it still holds its ground of what truly was the golden age and reign of music.

To choose the strongest point in the film is a challenge in itself. It feels like every element is paramount. Every song, ever character's expression, every line of dialogue, delivered at the right time, but still feeling natural.
At that time newcomer Patrick Fugit's acting is nothing less than honest. To find solace in something as modest as a song may seem unorthodox to some. Nevertheless, what Fugit and his co-stars present is fascinating.

Cameron Crowe has never disappointed and continues to refrain from this habit. In 'Almost Famous' he crafts not only one of the best rock films I've ever seen, but acknowledges everything that accompanies rock. The good, the bad, the tune, wealth and stardom, the character, the love and the hate. Some way, he manages to glue a little bit of everything I've come to love about movies into his.

As for music, may I merely quote the Doors: 'This is the end.'
I humbly disagree. As long as pivotal examples as this film are around, it isn't the end.