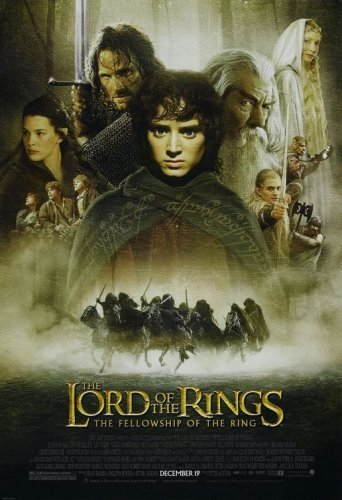 Lord of the Rings: The Fellowship of the Ring
Where the triumphant journey began.
memento_mori - wrote on 08/09/13
Fellowship is most likely my favorite of the trilogy, because it has all the elements of Towers and Return, but has better pacing and I just love the all round introduction and the inception of this remarkable story.

Peter Jackson is a great visual director, and I think his other works are underrated, too. King Kong was decent and The Lovely Bones had great acting and depth. He's made himself aware through his style that he knows how to film something for the fanboys. And I'm not even that big a LOTR fan, and still I was highly impressed with the highly acclaimed movie adaptations of the popular books.

The Lord of the Rings probably has some of the most likable characters ever to be in a movie. Frodo, Bilbo, Sam, Gandalf, Pippin, Merry, Aragorn, Gimli, Legolas. Don't ask me how I remember those names.
Every one of them has a personality. Some of them are less developed than others (Pippin), and I'm not a big fan of how they chose to portray Gimli, but every time they assemble as a team and majestically run up a mountain, it gives me goosebumps.

I love the way they chose to span out the first hour of this movie. It's all a prelude, an introduction to the quest. It's never rushed, we get to know our characters and we prepare for the great adventure.
The script is so beautifully constructed. Everything is balanced well, each character gets a good length of screen time and it sets up the tone and locations smoothly.

Howard Shore's score is one of the best I've ever heard. Not a single note is out of place, and the theme triumphantly arises during great scenes when it needs to. Shore and Jackson understood where to put a certain piece and when to overlap music with visuals to create an impressive effect. It hadn't been done this well since Steven Spielberg and John Williams.

What else is there to say? It's Lord of the Rings! It's something you have to experience for yourself at least once in your life, to take part in one of the greatest adventures in literature and film history. Every time I watch it, I pick up something new and am even more impressed with the scenery, story and characters. I just love this origin story and how well it was set up.