2/4

3.5/4

3.5/4

4/4

2.5/4

2/4

2/4

1.5/4

1.5/4

4/4

2/4

2/4

2.5/4

3/4

0.5/4

1/4

3.5/4

3.5/4

4/4

2/4

3/4

3/4

4/4

3/4

4/4

Next 25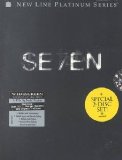 Se7en
The world is a fine place, and worth fighting for.
4/4 stars
What makes Se7en so brilliant is because at the time of release, no one expecting it to be any good.
In fact, a lot of people were anticipating it to be terrible, and then David Fincher and Andrew Kevin Walker's genius traits did the magic, and every mouth dropped.

Fincher is one of my favorite visual directors, and his visualization of humanity is so pessimistic and fascinating, it makes me sick to my stomach.
Every prop, every street, every detail of the set shouted ugly and hopeless, and when something as simple as the plains of a desert can induce that, it has my highest praise.
It's practically a prelude to Fight Club, tackling everything in general first. The homeless, the murder, the prostitution, the crime overall and of course the sin of human.
I especially liked the clever decision to leave the city nameless.
The characters are brilliantly realized in Walker's 'fifteen minutes of fame' script, because nothing seemed to ever top what he created here. Two of the most memorable characters of all time and definitely the most memorable ending of all time. My jaw dropped when the title credits rolled, as many others did as well.

Morgan Freeman is often awarded the urban title: 'Greatest Narrator of All Time'. And rightfully so.
To me, his lawful, unhappy, quiet acting portrayal of Detective William Somerset was pure magic, and black magic at that (*Badum Tss*).

Argument all you want about the irrelevance of the actions of the characters or the cold villain, Se7en remains one of my prime examples of a career-defining film.
Evil, but optimistic.
Pitiful, but fascinating.
Ugly, but gorgeous at the same time. Fincher's true work of art.