2/4

3.5/4

3.5/4

4/4

2.5/4

2/4

2/4

1.5/4

1.5/4

4/4

2/4

2/4

2.5/4

3/4

0.5/4

1/4

3.5/4

3.5/4

4/4

2/4

3/4

3/4

4/4

3/4

4/4

Next 25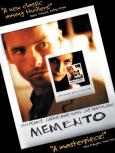 Memento
A jaw-dropping Hitchcockian-like thriller-mystery
4/4 stars
Easily the most complicated movie I've ever seen, with its outstanding structure, acting, direction and overall story, Memento is a modern mystery classic, with a slight trail of neo-noir.

Leonard Shelby is from San Francisco. He has a motel room. He has a car. He has a murdered wife. What he doesn't have is his memory. And still, armed with basically next to nothing, he sets out to find his wife's killer.
Christopher Nolan made the right choice choosing Guy Pearce to embody Leonard Shelby, because he is a perfect fit. I can see he is tormented, confused, determined and vengeful, visualizing some of the most well-developed and directed characters put to screen.
I actually feel kind of sorry for Guy Pearce, he's a great actor. He started off excellently in the late nineties with L.A. Confidential, topping it with this. Somewhere along the way something must have gone wrong, because he wasn't in anything big after that and now he's a little older. Poor guy.
The side characters are also great. Joe Pantoliano and Carrie-Ann Moss are deceptive, suspicious and have excellent chemistry, without even sharing a single scene together.
I love how the film is simply unpredictable. Everything falls into place, but leaves enough for you to still wrap your brain around it. There are scenes in this film, where the actors play so well off each other, I can't believe the actors got so little recognition.
Almost like a Hitchcockian thriller, suspense is built around every corner, with an incomplete monologue and possible twists at any time. It had me clenching my fists many times and amazed by what the characters did to each other, the way they take advantage of Leonard just shows how you can't trust anyone you don't know by blood.

Christopher Nolan's best work to date (in my opinion) delivers everything I like to see in a film. Excellent acting, excellent storyline, excellent direction, excellent everything. Not a single weak link. I just love everything it has to offer, it's like a movie made for me.