3/4

2.5/4

2/4

1.5/4

2/4

3/4

2.5/4

2.5/4

4/4

3/4

3/4

2.5/4

3.5/4

3/4

2/4

2.5/4

3/4

3/4

2/4

2.5/4

1.5/4

2.5/4

2.5/4

4/4

2/4

Next 25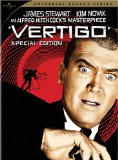 Vertigo (1958)
A movie everyone should see
4/4 stars
I'll be honest; I've never been a huge Hitchcock fan. Unlike other famous directors he seems to actually have more "just okay" movies then great ones. Sure Vertigo and Psycho (and maybe Rear Window, I'm kind of on the fence about that one) are great. North by Northwest on the other hand is a bloated action thriller (kind of like a 1950's Jason Bourne,) and The Birds is just a fun horror flick. You sure wouldn't see most of Hitchcock's flicks get 4/4.

Vertigo, as I just mentioned, is one of the exceptions to this rule. It is the only film that I am convinced had any personal meaning to Hitchcock. It is a movie about sexual obsession, but not in a cliché erotic manner, but in a creepy, almost fetishistic manner. It's strikingly thought provoking, and even kind of disturbing.

Our main character, in the second half of the film, goes from a typical private eye looking for the truth to a man who is driven mad by grief. He finds a woman who looks surprisingly like the woman who died, and tries to make her into the woman he lost (by dying her hair blonde buying her the same set of clothes). Jimmy Stewart (who plays the lead) is absolutely wonderful in this role, this is the only movie I've seen him in were he really gets lost in his character.

This really does reflect some of Hitchcock's own psychoses as well. I'm not sure exactly what Hitchcock's creepy thing for Blondes was, but he was infamous for harassing them on set. Vertigo may clarify things some, but it still leaves Hitchcock's own brand of crazy a mystery.

Vertigo is great, because it is both a good thriller, a good romance and a good character study rolled all into one. It never feels bogged down my it's multiple themes, but instead feels invigorated by them.

Weather you're a film fan or not this is one of those movies everyone should see.