3/4

2.5/4

2/4

1.5/4

2/4

3/4

2.5/4

2.5/4

4/4

3/4

3/4

2.5/4

3.5/4

3/4

2/4

2.5/4

3/4

3/4

2/4

2.5/4

1.5/4

2.5/4

2.5/4

4/4

2/4

Next 25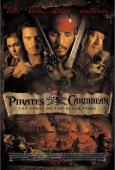 Pirates of the Caribbean: The Curse of the Black Pearl
What a Swashbuckling Adventure!
3/4 stars
Despite the fact that The Pirates of the Caribbean movies seem to get worse with every entry, itís still one of my favorite modern day franchises. In a cinematic world filled with Transformers and Superheroes itís actually quite refreshing to have a series of films that focus more on swashbuckling adventure then giant robots or men in tights.

The Curse of the Black Pearl is easily the best of the series. It has a very long run time, but doesnít feel like it. It really is the magic of the world that pulls you in on this one. Most time piece movies nowadays are serious dramas (or awful like the recent Three Musketeers re-make.) but to have a rousing action/adventure set in a different age makes the mundane seem more magical, and the magical aspects of the film seem surprisingly plausible.

When this movie came out there hadnít really been a successful Pirate movie in an eternity, so even though there once was a ďpirate genre,Ē to modern day audiences it seemed (and still seems) like a genre all its own. It accomplishes something similar to what Indiana Jones or Star Wars accomplished in the 80ís; they took a long dead or dying genre and reinvented it for the audiences of the time.

Director Verbinsky has always been like a good version of Michael bay. He never half does anything, which makes even his worst films entertaining and his best films doubly so. His recent effort Rango was one of my favorite films of 2011 and I am super excited about his upcoming Lone Ranger re-boot/re-make.

The actors range from mediocre to hilarious. Jack Sparrow is of course awesome, and iconic to boot. Orlando Bloom is kind of boring, but I think thatís on purpose, heís the lovable straight man to Deppís crazy and I really missed him in Pirates 4. Kierra Kinghtleyís character is in sort of the same vein as Bloom, kind of dull, but only in contrast to the goofy pirates. Geoffrey rush, the rest of the supporting and even the actors I had some issues with are all clearly having a lot of fun in this flick, so I can forgive the occasional misstep.

Pirates of the Caribbean: Curse of the Black Pearl isnít great or anything, but itís a dang good adventure movie for those who are tired of the modern day action flick.