3.5/4

2.5/4

1/4

4/4

4/4

4/4

4/4

4/4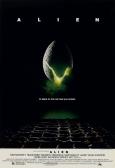 Alien

4/4 stars
A masterpiece. Scott grounds his sci-fi/horror in a gritty reality that makes this super scary, and the intensity doesn't let up. There isn't a moment in this that isn't pure gold.
Sci-fi/horror was, and still is, a well-established sub-genre, but nothing before, or since, in my opinion, has such an understanding of what the sub-genre is; in fact, Alien is a defining film for sci-fi/horror, as it reset the benchmark, which not many others have reached, and none, including the other films in the franchise, have ever surpassed.
Alien is an absolute gem, that can still make my poor heart race and scare the living bejesus out of me!