3.5/4

2.5/4

1/4

4/4

4/4

4/4

4/4

4/4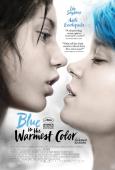 Blue is the Warmest Color ( vie d'Adèle, La )
Surprisingly Good
3.5/4 stars
I feel a little weird about Blue Is the Warmest Colour, but it's not specifically that one film in particular. I think I feel a little weird about sex scenes in films full stop. On-screen sex belongs in porn movies, as far as I'm concerned, and not in 'legitimate' filmmaking, but I suppose that's my issue, and I shouldn't let my prejudices get in the way. So, having established that my first point in this review is irrelevant, we'll move on.

Apart from my awkwardness concerning sex scenes, I have to say that I really like this film.Unlike others of its ilk (that's bittersweet romantic dramas) it is very astute in its observations of the human condition in general and first love in particular.

While the script is very good and accurate, in terms of the picture it paints of the utter joy and exquisite agony of love, it is the two leads, who show a rare level of commitment to their roles, that shine. It's actually fairly rare, too, see performances which are so raw, naturalistic and honest.