4/4

4/4

1/4

0.5/4

2.5/4

3/4

4/4

0.5/4

4/4

1/4

2.5/4

3/4

4/4

2/4

1/4

1/4

4/4

4/4

4/4

4/4

4/4

0.5/4

1/4

4/4

4/4

Next 25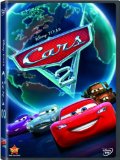 Cars 2
Pixar films are fantastic!
3.5/4 stars
Before having my own children it was like squeezing water out of stone to get me to sit down and watch anything Disney had to offer. That was up until Pixar CGI animation studios was invented. Now i can't get enough of them and it's me folks...yes me that is actually dragging my kids to see it and not vice versa. Cars is no exception as i enjoyed it and found myself enjoying the second part all the more. This time round directors John Lasseter (Cars, A Bug's Life, Toy Story trilogy) and Brad Lewis (Cars 2, Ratatouie) bring a few new charectors to the mix as in an Indy car Francesco (voiced by John Turturro) who after teasing Mater (voiced this time by Larry The Cable Guy) challenges Lightning McQueen (Owen Wilson) to race him in a championship race in Francesco's home country of Italy. Also new to the mix are Pixar and Disney's tribute to the James Bond 007 charector in Finn McMissile (Michael Caine) and M Holly Shiftwell (Emily Mortimer) two top british super spies whoboth uncover unknown and very well hidden espionage talents within Mater's rusty innards.

The second visit with the car only population of Radiator Springs, centers the plot this time around on Mater, not so much on Lightning, which some i have read have found annoying. I had actually read one review on which the reviewer had stated that Pixar had found it's very own version of Jar Jar Binks(For those that do not know he is the annoying creature in the Star Wars prequels)

Well i for one enjoy the Mater charector, and found that along with him that cute little forklift who works at the Radiator Springs tire place only add to the laughs. Cars 2 is yet another Pixar fave i can gladly add to my video shelf at home when it's time.