2/4

3.5/4

1.5/4

3.5/4

3.5/4

1.5/4

0.5/4

2.5/4

1.5/4

3/4

2.5/4

3/4

1.5/4

1.5/4

0.5/4

3.5/4

2.5/4

3/4

3/4

1.5/4

1.5/4

1/4

3.5/4

3.5/4

3/4

Next 25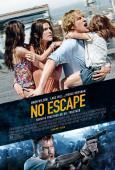 No Escape (2015)
Tense gripping edge of the seat stuff
3.5/4 stars
Great film finally i get to watch something that's actually good. starring owen wilson in a serious role who does a great job while remaining very likeable and real. This centres on a family who move for a new job overseas but trouble breaks out and there is a uprising and his family and all tourists become targets, they then need to get out of the country alive while protecting their kids.
its a edge of the seat gripping movie from the moment the trouble starts its non stop tense and edgy.
good direction and story its a very good surprise movie. also starring pierce bronsan who is also cool in this ( he gets better with age it seems )
only one quibble the acting of the wife wasn't always as good as it should of been . but she had her moments but a better actress would of really been a better idea. for me it was a gripping tense and a enjoyable movie.