4/4

3.5/4

4/4

4/4

2/4

3/4

1.5/4

1/4

0.5/4

4/4

3.5/4

3/4

2/4

2/4

1/4

4/4

4/4

3/4

4/4

3/4

3.5/4

1/4

3/4

1/4

3.5/4

Next 25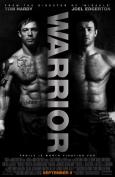 Warrior (2011)
A 2011 version of Rocky
4/4 stars
Warrior is film that grips the viewer from start until finish and does not let go. Some may accuse it of being formulaic, but it is a great story that stands up on its own. It is like a modern day version of Rocky, bringing contemporary issues to the fore. Warrior contains two parallel stories that collide near the end in an epic encounter, each one both heartbreaking and inspiring.

Tommy Riordan (Tom Hardy) is a U.S. Marine who has recently returned from Iraq. He visits his father Paddy (Nick Nolte) a recovering alcoholic and born-again Christian. Disgusted by his father's past behavior and believing that he has not changed, Tommy dismisses him and begins training in MMA at a local gym. After knocking out Mad Dog (Erik Apple) in 30 seconds at the gym, he asks his father to train him so he can enter a MMA tournament called Sparta, which promises a major cash prize. Tommy wants to use the money to take care of a fallen comrade's family, something he promised his friend moments before his death.

At the same time, Brendan Conlon (Joel Edgerton) is struggling to pay his bills. A high school physics teacher, Brendan is in serious financial trouble as his daughter has recently had an expensive heart operation and is at risk of losing his house due to the re-structuring of his mortgage. Brendan moonlights in a MMA competition in the parking lot of his local strip club to gain extra money. However, his wife Tess (Jennifer Morrison) is not happy, thinking her husband could be injured or killed at anytime. Eventually, Brendan is suspended from his teaching job and takes up MMA training full-time with the help of Frank Campana (Frank Grillo). After one of Frank's top fighters is injured in training, Brendan convinces him to enter the Sparta tournament, leaving Brendan with one last chance to clear up his financial trouble.

The acting in Warrior is superb. Tom Hardy brings a brilliantly sense of realism to the role in one of the most convincing performances of his career thus far. He is able to play a sympathetic character who is also extremely cruel at the same time, particularly towards his father. After his recent run, it is quite clear that Mr. Hardy is destined for superstardom.

Edgerton also gives a good performance, although his character does not contain the nuances of Hardy's. He brings a major likeability factor to the role, as his character is more sympathetic than Hardy's. Edgerton's Brendan is an average Joe family man with everything to lose and gain, he is really one of us, which is why he is so likeable.

Then there is Nick Nolte's brilliant performance. Nolte was the only actor nominated for an Oscar for his work in the film, a nomination he definitely deserved. It is quite clear that this role was perfect for Nolte, as he plays a sad old man who has alienated his whole family. With Nolte's own substance abuse troubles it seems natural that he could relate to the character and put in a great performance.

Gavin O'Connor's film is paced extremely well and the fight scenes are well staged. He develops the character's completely while also leaving room for speculation about Paddy's past deeds. As a whole, this one is brilliant and needs to be seen.