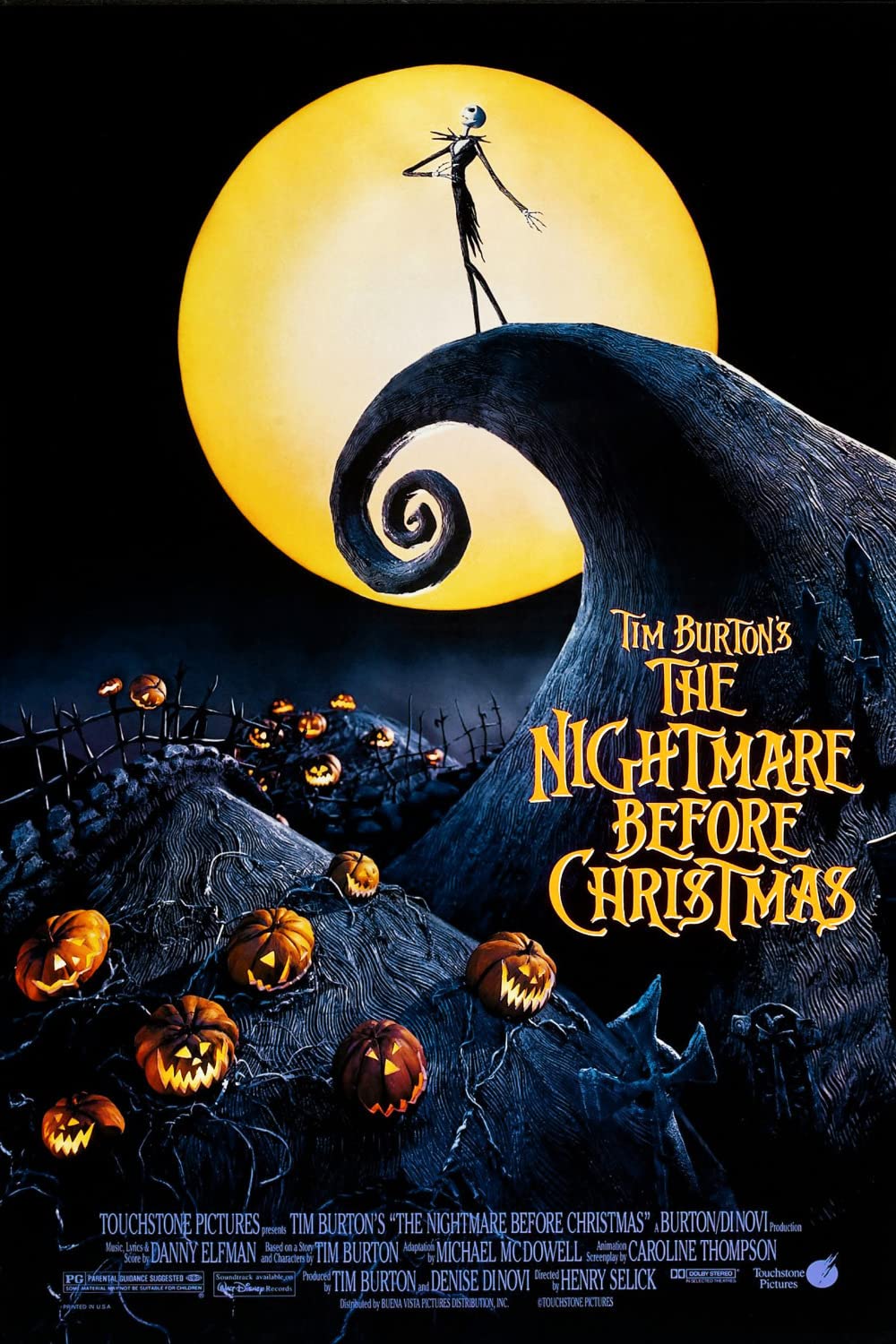 The Nightmare Before Christmas
Imaginative and Visually Stunning
JLFM - wrote on 05/01/13
The Nightmare Before Christmas represents what one might argue to be the most famous and well known stopmotion film of all time. It's one of the few films that generally receive annual viewings, and it's often raved as Tim Burton's best film (despite actually being directed by Henry Selick). Even if this is a case of style over substance, I couldn't help but be enchanted by this visually stunning picture, and I feel this is truly worthy of its cult classic status.

Jack Skellington, the hailed leader of Halloweenland wraps up yet another successful Halloween. The entire land loves him, and though Jack receives much adoration, he feels bored with his job, and wants something different. But when Jack accidentally finds himself in Christmastown, his life regains meaning. Loving what he sees, Jack attempts to imitate the holiday, though things go terribly wrong.

I have to say, The Nightmare Before Christmas was much different than I expected. While I assumed this would be a dark musical comedy, there's actually very little humor to be found. You might get a few smiles, and maybe a laugh, but The Nightmare Before Christmas is by no means a comedy. It's spellbinding fantasy, that imitates the classic Disney formula, while becoming a genre all of its own.

The primary strength of this film, comes from the imagination and the visuals. The story line and setting is highly original. While only Halloweenland and Christmastown is ever seen, we are lead to believe that there's other Holiday themed world as well. It makes one wonder what could await in other lands...

As far as the visuals go, this is certainly one of the best looking films I've ever seen. While never overly complex or as technically astounding as modern stopmotion films, The Nightmare Before Christmas boasts a visual style like nothing I've ever seen before. The character designs are brilliant. The landscapes are stunning. The visuals are much of what makes The Nightmare Before Christmas such a famed classic, and that's no surprise.

Halloweenland and it's residents are wonderfully wicked, and often more creepy than actually scary. The slightly twisted nature to the setting here is memorable and enchanting. Christmastown recalls memories from How the Grinch Stole Christmas, while providing a much more cheery color palette.

Unfortunately, Danny Elfman's songs are less than great. In general, they're forgettable and lacking in fun, and the rhyme schemes are often awkward and hard to follow. The lyrics often seem to force words to rhyme, making the songs slightly unpleasant to listen to at times. This is a shame, because there are so many songs in the film. Still, there are still several good ones, including "This is Halloween," "Kidnap the Sandy Claws," and the phenomenal "What's This?"

The cast is nothing too special. Chris Sarandon voices Jack Skellington when talking, while composer and song writer Danny Elfman voices Jack when he's singing. Catherine O'Hara lends a forgettable voice for Sally, the love interest. Ken Page as Oogie Boogie is easily the standout, providing an energetic performance as the main antagonist.

While Danny Elfman's songs in the film left something to be desired, his score is, quite possibly, some of his very best work. With some surprisingly jazzy segments (that sounds so much like Randy Newman's work, it's uncanny), and some great recurring musical themes and Christmas tie-ins, this is an excellent and hugely memorable score from Elfman.

The main selling point may be the visuals, but that doesn't make this film worth seeing for it's other aspects. The story is very original, Elfman's score is great, and the whole production has imagination to spare. The Nightmare Before Christmas isn't as emotionally satisfying or as hilarious as the best of animated films, but the visuals alone makes this worth seeing.