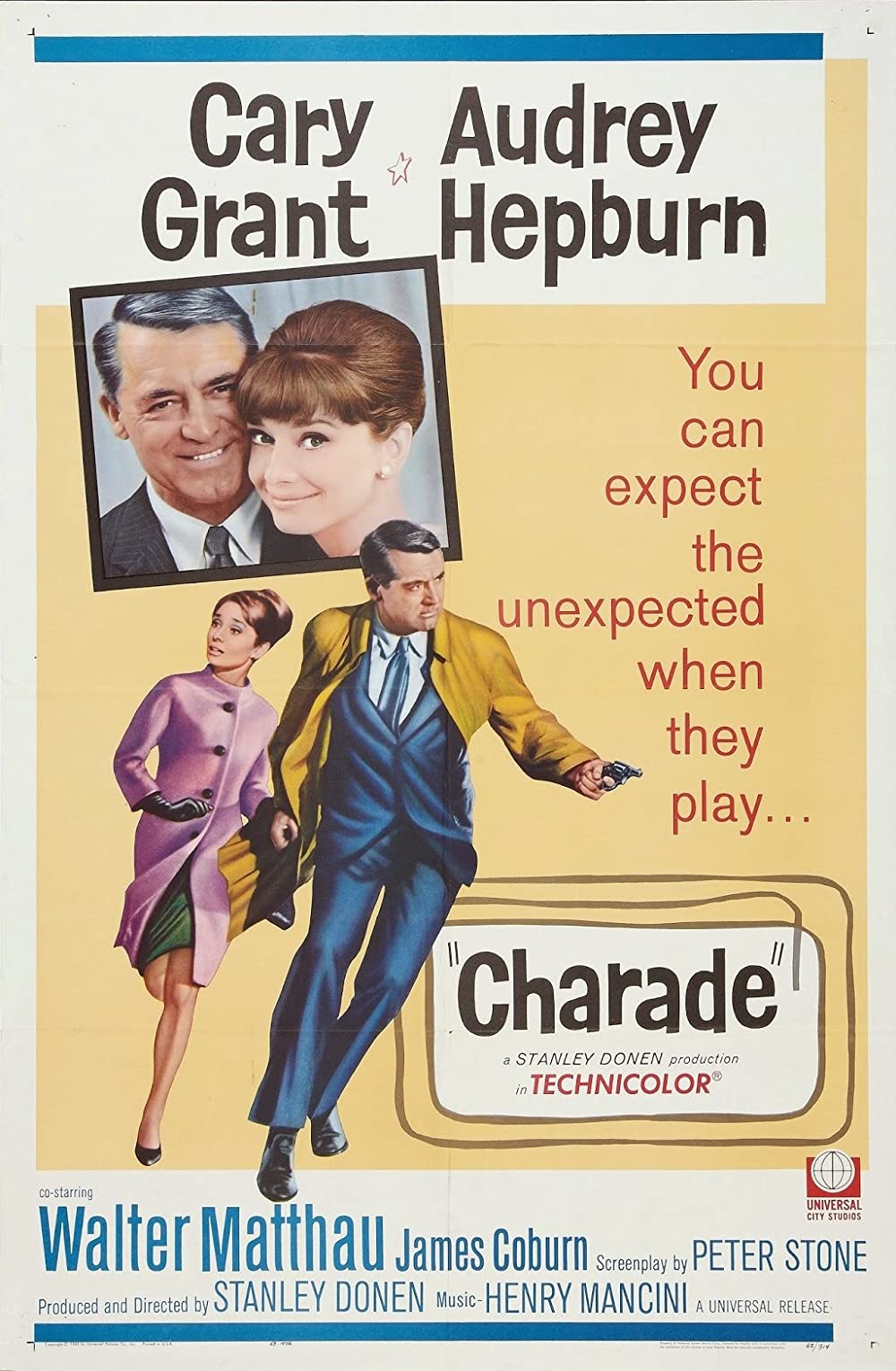 Charade (1963)
Fantastic Script and Lots of Twists
JLFM - wrote on 03/21/13
I guess I should mention that I'm a sucker for a good mystery novel. I love reading them, and I enjoy being surprised at the end. Of course, the best mysteries won't rely entirely on a shocking conclusion. Witty dialogue, memorable characters, reasonable suspense, and most importantly, plot twists, must be peppered and laced throughout. The great thing about Charade, is that it takes everything that you could possibly want in a mystery novel, and puts it all under one roof.

A young woman named Regina Lambert finds herself in possession of a large sum of money when her husband dies and leaves her $250,000. Unfortunately for her, three men are convinced that the money is theirs, and they're determined to get it back. With no one else to turn to, Regina puts her trust in a stranger named Peter Joshua. The two must now not only outsmart the three crooks, but also solve the mystery Regina's husband has left behind.

Charade ingeniously blends the best elements of any mystery book, into a single film, creating an engaging and entertaining experience that's both intelligent and exciting. Clever dialogue and some quirky situations helps inject humor and fun into the production, while a handful of chase scenes keeps things exciting. With the added threat of three crooks living right next door, Charade is rarely dull.

The romance between the two leads is surprisingly well done. It's a little overdone at times, but it's not too schmaltzy, nor too formulaic. It finds a perfect balance that few films ever achieve. The chemistry between the leads is excellent, as their personalities easily compliment each other. Modern romance films should take notes.

The mystery itself is genius. There are several plot twists throughout, but all of them seem minuscule when compared to the grand finale. While many similar films often fails to provide much punch during the "revealing" stage, Charade pulls of it's big twist at the end beautifully.

Characters are both memorable, and likeable (or dislikeable, depending on intentions), with great acting to boot. Audrey Hepburn as Regina may appear helpless at first, but she quickly becomes an independent and brave woman, ready to fend for herself. Cary Grant as Peter is suave, but without being romantic. His maturity contrasts Regina's childishness. The three crooks (James Corburn, George Kennedy, and Ned Glass) are menacing, though not as defined as other characters. Jacques Marin as Inspector Grandpierre gets several laughs as the cranky policeman.

The score, composed by Henry Mancini, is excellent. Often jazzy, but not without suspense and tension, it's a solid work from the master composer.

A truly thrilling and surprising film, Charade is an extremely charming and masterfully made production. With a great cast, witty screenplay, and some great twists, this is the ideal mystery movie. If you're the kind that enjoys mystery novels, this is for you. If you're not into mystery novels, try it anyway.