3.5/4

3/4

3.5/4

1.5/4

2.5/4

3.5/4

2.5/4

3/4

2/4

3.5/4

3.5/4

2.5/4

1.5/4

0.5/4

3.5/4

4/4

2.5/4

1.5/4

3/4

3/4

3/4

1/4

3.5/4

3/4

3/4

Next 25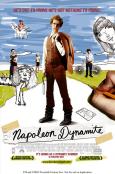 Napoleon Dynamite
Teenagers Will Love It, Everyone Else Should Run
2.5/4 stars
Usually, after seeing a film for the first time, I have a 1-10 score in my mind that I plan to assign the film when I later write my review. If not, I'm usually fighting between two numbers. But Napoleon Dynamite has simply confounded me. It has taken me some time to decide whether I absolutely adore this film, or absolutely despise it.

Napoleon Dynamite doesn't have a true plot (the only suggestion of a plot doesn't even occur until halfway into the film), but it does have a sort of premise. We follow the adventures of Napoleon Dynamite, a junior in Highschool, whom is nerdy, not particularly bright, and completely unpopular (he has but one friend; Pedro). Napoleon also has a brother named Kip, who's a nerd like him, who spends most of his time hanging out in "chatrooms" online.

While there's no true plot to Napoleon Dynamite, there are at least half a dozen sub-plots. These sub-plots give Napoleon Dynamite something of an episodic feel. It certainly didn't surprise me to learn that a TV series had spawned from this film, as Napoleon Dynamite has that kind of sitcom quality. Usually, when a film is compared to a sitcom, it is considered an insult, but in this case, it is to be thought of as a compliment.

The kind of humor in this film is extremely subjective, and the audience likely to enjoy it is very limited. Teenage boys will get the most out of this, while teenage girls will either be amused or disgusted. Parents will likely be irritated, younger ones will get bored, and grandparents won't understand a thing. The style of the film is very much the same. You may find yourself laughing like a loon, or you may leave the room in distaste. If you're looking for any sign of meaning, symbolism, or even intelligence, you're likely to be disappointed. The key to enjoying Napoleon Dynamite is to embrace the film on it's own terms.

That being said, there's much to enjoy about Napoleon Dynamite. Some of it is the characters (it's likely that we all know someone that's at least a little like Napoleon Dynamite), and some of it is the dialogue. If you're the film's target audience (which as I stated earlier, is likely teenage boys), it may be years before you stop quoting this film. There's just so much memorable dialogue.

Napoleon Dynamite has a lot of seemingly random cuts and scenes (most of which rarely last more than 10-30 seconds). Not all of them fit perfectly into the film, but Napoleon Dynamite still manages to be feel mostly cohesive.

The acting in Napoleon Dynamite is good on it's own terms, but the characters in this film are so hugely one-dimensional that there likely wasn't much of an acting challenge. I'm sure the biggest problem here was keeping a straight face through all of it. Jon Heder as the lead is convincing as nerdy Napoleon Dynamite. Other actors are in the same vein; convincing, but not exactly brilliant.

What little music there is, is scored by John Swihart. The score is mostly dated sounding organ pieces. It's somewhat amusing at first, but eventually feels more like a novelty as the films wears on.

As amusing as Napoleon Dynamite is, I didn't truly laugh almost at all. Don't get me wrong, I smiled and chuckled through almost the whole film. But there weren't a whole lot of "big" jokes. Just a whole lot of snicker-worthy ones. Regardless, I was never bored, though the whole thing is a bit exhausting. And the constant stupidity and parody nature of the films is a bit tiring eventually. Despite all of Napoleon Dynamite's major flaws, though, I couldn't help but enjoy it. Ultimately, Napoleon Dynamite is a guilty pleasure, If nothing else, it seems like this was a lot of fun to make, and the fun certainly translates onscreen well enough.

If I had to describe Napoleon Dynamite, I'd describe it as a very lengthy YouTube video. If this description doesn't appeal to you, than this film probably won't either.